Lifestyle
Esprit dares you to 'wear your stripes'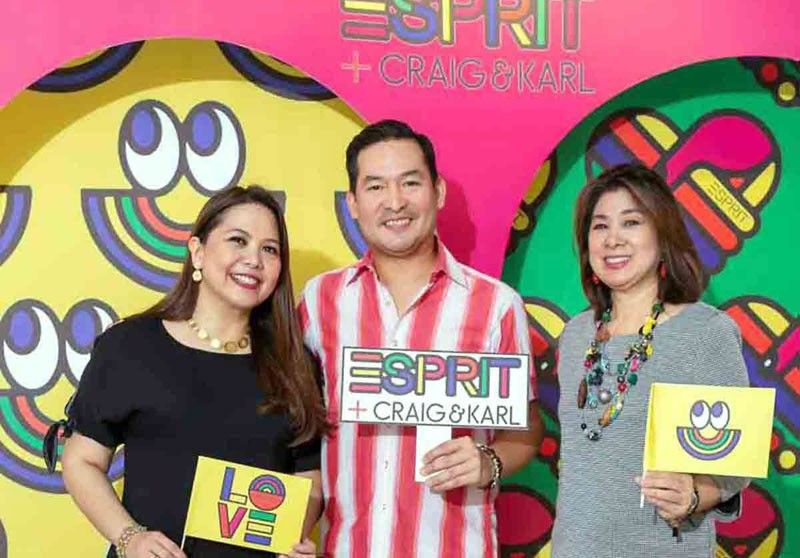 Esprit, a renowned international fashion brand, dahlings, unveiled its limited-edition Craig & Karl collection at TriNoma, QC.
This amazing collaboration produced a creative expression directed at today's youth by encouraging "Love" and "Equality."
Inspired by the revolutionary spirit of the '60s, the brand developed a clear philosophy: celebrating real people and togetherness.
"We want to make you feel good to look good," said woman of substance Malou De Venecia, one of the iconic women behind Cinderella.
This iconic brand invited renowned artists Craig Redman and Karl Maier to do a collab for a special line. Craig and Karl are known in the worlds of fashion, technology, and politics. Their works have been featured in museums around the globe, no less.
Craig and Karl used Esprit's highly recognizable clothing line as its canvas, incorporating rainbows with color into integrated patterns that spelled out a clear message that symbolizes tolerance and freedom.
The launch was attended by Richie Santos, Cinderella vice president for international brands; Malou Coronel–De Venecia, director for marketing and communications; and Jing Bernardino, brand manager for Esprit Philippines. Guests included actress/commercial model Anthea Theresa Roa Murfet, GMA 7 Kapuso actress Ana de Leon, Aggy Nuguid, Chinchin Obcena, Bambi del Rosario-Young, CNN Philippines host Allan Young, Janeena Chan, Kally Araneta, Kristine Tanyag , ABS-CBN news anchors Dr. Luisa Ticson-Puyat, of DZMM Teleradyo, TV Patrol's Nina Corpuz, Umagang Kay Ganda's Tina Marasigan, Dr. Mia Fojas of the Philippine Society of Endocrinology, Diabetes and Metabolism, and Daniel Reyes, digital writer of One Mega Group.
Official sponsors are Max's Restaurant and I'Milky.
"Every stripe means 'of all types,' a statement of diversity, inclusivity and cooperation," explained the in-demand bachelor about town Richie Santos. "Stripes are a prominent feature of Esprit's design DNA and Craig & Karl's signature focusing on patterns and color. It really was a perfect collaboration."
The success story of Esprit is based on two pillars: Delivering joy every day through laid-back tailored, high-quality essentials and carefully selected fashion-forward pieces while staying true to its core values of sustainability, equality and freedom of choice. Esprit's newest collection and design collaboration promises to deliver love, equality and joy through art. That's so Esprit, palanggas.
Follow Esprit @cinderellaphil and use the hashtags #EspritPH #LoveIsLove. The Craig & Karl collection is exclusively available at Esprit Ayala Malls in TriNoma and SM Megamall.
Esprit is exclusively distributed by Cinderella Marketing Corporation.