Lifestyle
Charlize Theron is immortal in 'The Old Guard'
MANILA, Philippines — While Aswang shows us bullet-holed bodies in real life, the Netflix action flick The Old Guard shows us immortal superheroes felled by a hail of machine gun fire in its first minutes. Before we can register a mental note that seeing people pumped full of bullets is somehow no longer entertaining, we're drawn into a pretty good superhero revamp in which Theron leads a gang of, well, immortal beings who try to "do good" in the world over the centuries.
Theron, as Andy (short for "Andromache of Scythia") gets together the old team of Sebastian (Matthias Schoenaerts), a French soldier under Napoleon, and lovers Nicky (Luca Marinelli) and Joe (Marwan Kenzari), former enemies during the Crusades, to rescue some kidnapped African children, but it's a setup: after the hail of bullets reveals their special regenerative powers, the team seeks out a new immortal — young US Marine Nile Freeman (KiKi Layne) — and enlists her before a sinister pharma company can use them all for stem cell "experiments."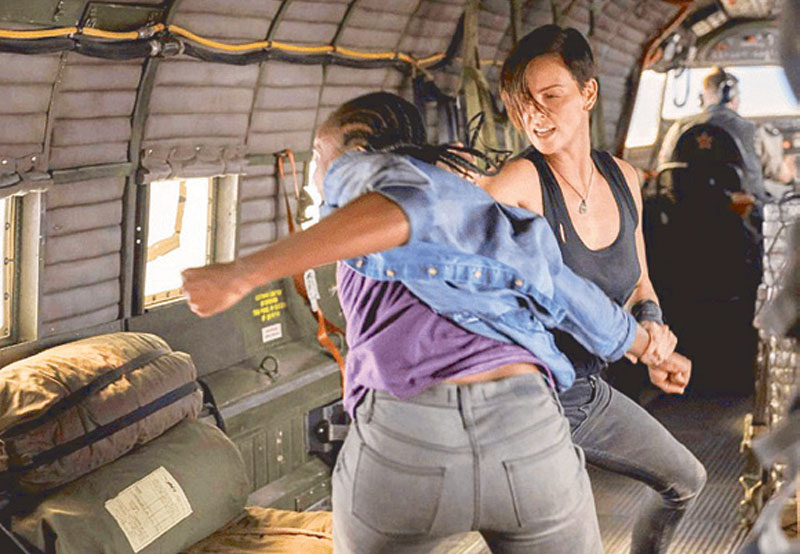 Theron and Kiki Layne battle it out mid-flight.
Based on a comic book and directed by Gina Prince-Bythewood, it works mostly because of the mentoring relationship between Andy and Nile, which not only shows off their martial arts ninja training, but reveals some heart in the script. (It sometimes brings to mind the Logan/Laura dynamic of James Mangold's Logan.) The rest of the gang are up to the task, separated by centuries but all onboard as the plot hurtles from escape to escape. It's Chiwetel Ejiofor, playing a former CIA operative now tracking the "Old Guard" for greedy pharma CEO Steven Merrick's nefarious plans, who's the wild card, and the movie provides enough fight, flee and talk-about-it-later scenes to stand in for whatever Marvel franchise is currently being readied down the pipeline. Plus, there's room for a sequel or two. For now, enjoy it for Theron doing the kickass thing she does so well in movies like Atomic Blonde and Fury Road.