Lifestyle
Chaine Manila holds grand diner amical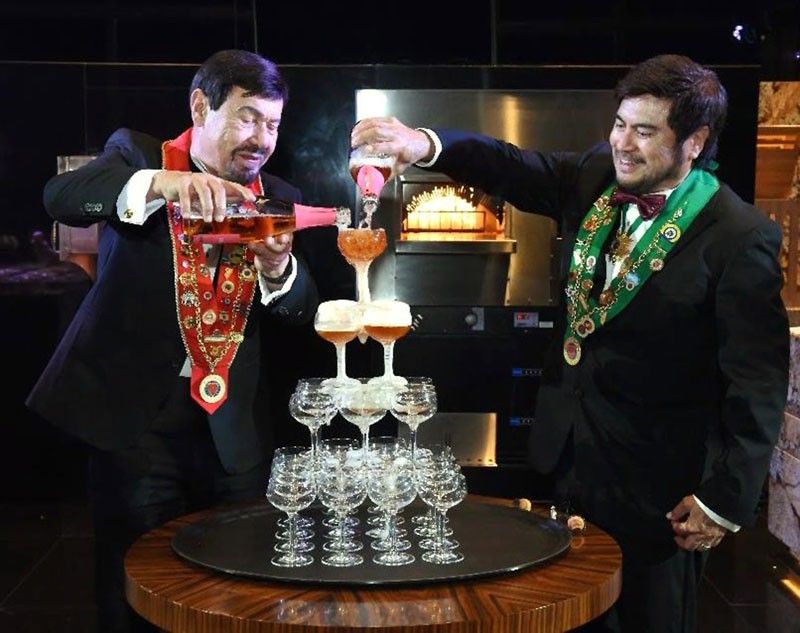 The Manila Bailliage of the prestigious Chaîne des Rôtisseurs celebrated its 47th anniversary with a grand diner amical at the brand new, eye-catching Grand Hyatt in Fort Bonifacio.
With the theme, "The Greatest Show on Earth," inspired by the Hollywood blockbuster film, The Greatest Showman, the event featured a mime, a performer on stilts and a juggler on a unicycle mingling with the guests in the cocktail area, dahlings. A variety of excellent canapés were served, together with a choice of the best Lhuillier Brut Tradition Champagne or a Kir Royale.
Guests were ushered into the grand ballroom and, once seated, the officers of the Manila Bailliage and the National Bailliage paraded in. Welcome remarks were delivered by the dashing gentleman Freddie Borromeo, followed by the reading of the rules. A minute of silence was observed in honor of longtime Bailliage National officer Dieter Lonishen who passed away recently. Hyatt executive chef Mark Hagan described the six excellent dishes chosen to be served after which vice-chanson de Manille Jay Labrador explained the wines.
Another musical number preceded the dessert — warm chocolate cake with a wild berry flambée topped with white chocolate ice cream. Chaine officers Sanju Gopaldas, Arnie del Rosario and Gene Gonzalez were called in to the show kitchen for a cooking demo. No dessert wines were served, but the guests could have a choice of Cointreau or Eagle Rare -year-old Bourbon, coffee and mignardises.
Closing remarks were delivered by the connoisseur Bailli Delegue Michel Lhuillier, after which certificates of appreciation were handed out to the hotel staff. The kitchen and service brigades were also called forward to a hearty round of applause from the diners for a job well done. Pictures of the staff together with the Chaine members followed, and that closed the festivities.
All thanks to the dedicated, helpful and vivacious Josephine Borromeo, no less, palanggas.
Georgina Wilson, Isabelle Daza, Liz Uy, Solenn Heussaff launch Zalora's summer edit
The fashion heat is on as The___Edit drops its second collection this season. The gorgeous Georgina Wilson, Isabelle Daza, Liz Uy and Solenn Heussaff collaborated with Zalora once more to launch the summer edit, with exciting pieces showcasing trends to suit every occasion in your hot summer calendar.
Manila's fashion-philes attended the launch wearing the new collection. The glitzy happening, hosted by Mond Gutierrez, had guests enjoying the sunset session at The Peak at The Grand Hyatt.
"The summer edit focuses on looks that reflect The___Edit's commitment to contemporary style in light fabrics. This season offers a smart-casual style combining smooth satin, light cotton and breezy linen in cool hues reminiscent of the sand, sky, and the sun — setting you up for the season's sun-soaked garden parties and weekend getaways," enthused my palangga, the vivacious Leah de Guzman. While also keeping your casual weekday looks as chic as ever.