Lifestyle
Art and culture rock stars party for Lisa Nakpil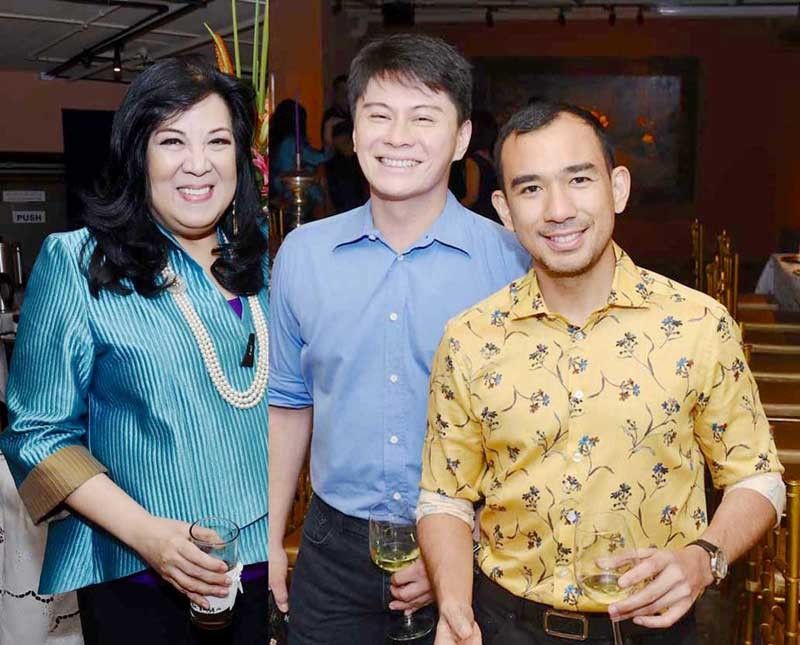 Jaime Ponce de Leon and Robbie Santos gave a super birthday dinner for León Gallery fantastic curator and the literary blue blood Lisa Guerrero Nakpil, no less, dahlings. Since Lisa wears various hats as rock band manager, writer and opinion maker and Leon Gallery art curator, the guest list was decidedly the most conspicuous of the art and furniture collectors.
Naturellement, present were the Medici of Philippine art Paulino and Hetty Que, Francophile Deanna Ongpin-Recto, art guru Dr. Joven Cuanang, former Central Bank governor Jimmy Laya, the doyenne of Philippine antiques Kit Roxas, historian and Rizalist Ambeth Ocampo and the elusive designer Pepito Albert — all among the young-at-heart pack of well wishers.
Not to be missed was Manille's Peggy Guggenheim, Tina Fernandez, who is now so single and available, chic couple Francis and Erica Concepcion-Reyes, so-in-love artist-manager Derek Flores and Melot Sunga, man-about-town Tim Tan and the brilliant Van Cleef and Arpels-trained jeweler Nicole Whisenhunt.
In another corner, getting tips from lawyer and art investment expert Tonico Manahan was housing czar JJ Atencio with life partner lawyer Rod Libunao; while the Manila decorator often dubbed as "Manila's Mario Buatta" Paolo del Rosario was chatting with art adviser Rocky David.
The sumptuous food was by La Tasca but there was also mushroom canelloni, paella Espanola, and Pria Chiongbian's to-die-for roast turkey with Spanish stuffing. The spread, palanggas, was so rightfully in place for the daughter of the genius Carmen Guerrero Nakpil that Rosa Aboitiz and Chicho Posada declared "the evening to be Una Cena Muy Español."
The evening's surprise was the unveiling by the director of the National Museum Jeremy Barns of Antonio Dumlao's copy of Juan Luna's "Spoliarium." No artist could have done a better copy than Antonio Dumlao who personally did the restoration of the original "Spoliarium" upon its arrival in 1958 from Spain.
It was definitely an evening well put together, for this woman of all seasons.
A rose pink celebration
A pink motif celebration was given by close friends led by fashion designer Eddie Baddeo and fashion directors Raymond Villanueva and Nathan de Leon to Manila's Best Dressed Roselie "Rose" Santiago Licup. Guests enjoyed a 10-course sumptuous dinner at the Red Jade Chinese Resto at The Manila Hotel. Friends all wore a touch of pink to the delight of the celebrant.
Rose's favorite color is rose pink. A Manila Best Dressed hall of famer, she was awarded Fashion Trendsetter of the Year (2018 JPP fashion).
Her parents Antonio J. Santiago of Obando Bulacan and Nelia de Leon Tolentino of Batangas raised her to be a God-loving, law-abiding and caregiving woman.
With a family of her own with grandchildren, Rose continues to be caring and of service to others, especially to the aged, cancer victims, typhoon and other natural disaster victims and special kids. All of these comprise her charity work conducted with Rhums Club as Passionate Handog since 1990. Closest to her heart now is founding and funding Tenth Journey Volunteers Inc. which has been sponsoring the annual 10-day Camp Journey for special children.