Lifestyle
Amazing finds for loved ones from Rustan's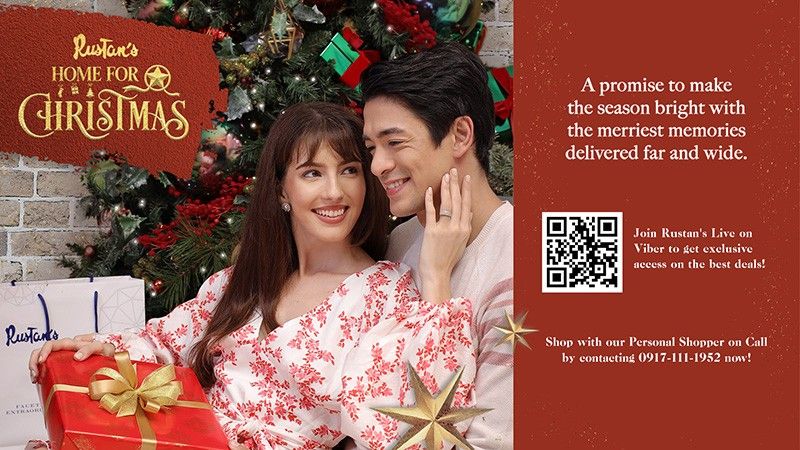 CEBU, Philippines — A meaningful Christmas is celebrated with the people you care about. It is a time to reflect and honor relationships through gift-giving, which is a thoughtful act of love. Remembering loved ones' and friends' individual hobbies, interests, ambitions, and milestones ultimately leads to sincere gifts that touch the heart.
This Christmas, Rustan's presents a wonderful selection of gift options that suit the many lifestyle needs and wants of anyone on your gift list. Choose from a wide range of items that falls within a specific budget and would definitely make the perfect tokens for everyone you hold dear.
For officemates (gifts below P1,000)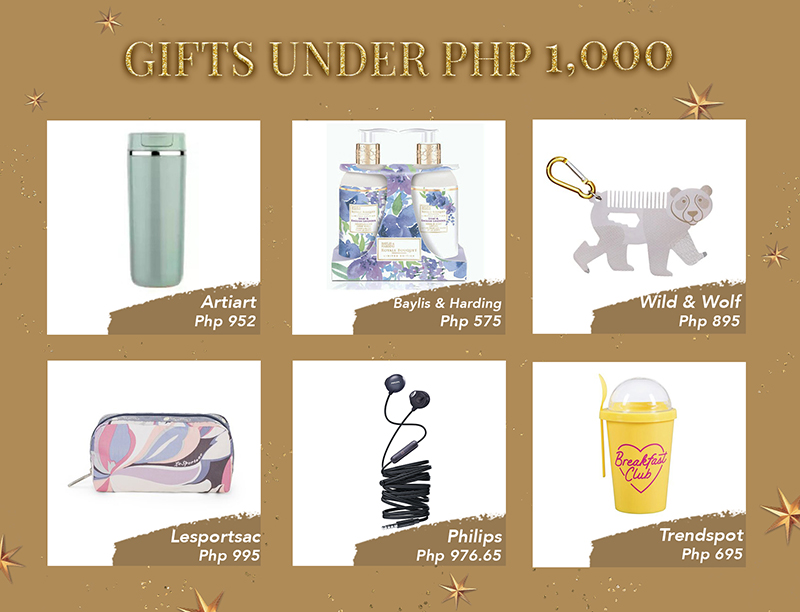 Show appreciation to the ones who always have your back. Treat them to essentials for their work-from-home office space like a water bottle from Artiart, cute cups from Trednspot, and earphones from Philips. For all the times they've spent typing on their computers, make sure their hands are pampered with the best selection of hand wash and creams from Baylis & Harding.
LeSportsac offers the cutest selection of printed cosmetic pouches, that will surely be the chicest way to keep little trinkets from cluttering their WFH space. For the male officemates, a handy tool is always a good-to-have. Choose from a selection of lightweight and compact items from Wild & Wolf.
For relatives and friends (gifts below P2,000)
There's always that one favorite cousin whom you have many memories of growing up with—from the good, the bad, and even the embarrassing. Bring joy to your childhood best friend with gifts from Lexon. The Mino portable speaker and Mina LED lamp will add color to their everyday life. Philips also offers earbuds in different shades, giving you the easy option of personalizing your gift based on their favorite color.
For your BFF who has become the designated errand-runner at home, a sturdy, washable bag or pouch from LeSportsac will be a big help. Make sure they stay hydrated while on the go, Santeco bottles are always a reliable option.
For parents and siblings (gifts below P3,000)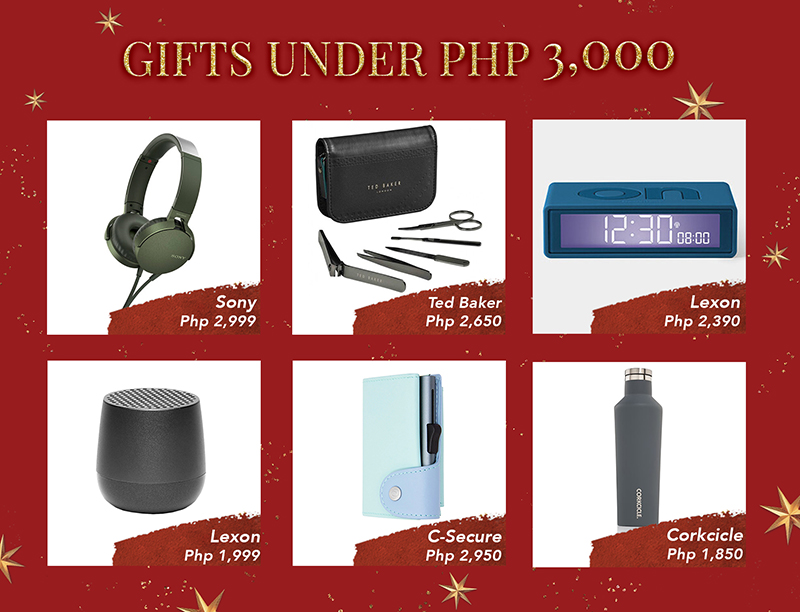 Honor your mom with useful items that they can easily integrate to their daily routine. Luna has a wonderful selection of caftans that will keep her the most comfortable yet stylish, while lounging at home.
Sisters are your first style teachers. School her with some chic pieces from Lady Rustan and Lotus. Select from tops and bottoms that will easily be her next go-to choices for her office Zoom calls, or quick trips to the mall.
Dad should get a great gift too, like a beautiful bottle from Corkcicle that will keep cold water cold, and hot beverages hot. For Fathers who are always well-groomed, manicure sets from Ted Baker will surely bring smiles to their faces.
Keep your brother's pockets organized with C-Secure's coin wallet, and help him keep his Zoom appointments with an alarm clock from Lexon. He will thank you for that later. Or if he's an audiophile, a pair of headphones from Sony or a tiny portable speaker from Lexon will make his holidays livelier.
The Grandest Fine Jewelry Sale
In addition to all this, Rustan's Grandest Fine Jewelry Sale has very special offers up for grabs from Rustan's Silver Vault and Montblanc until December 31.
This is the perfect opportunity to express love and appreciation to those who truly matter, especially the ones who were present during this challenging year.
The promo allows up to 24 months installment at 0% interest with a minimum purchase of P50,000. Orders can be made in-store, or through the Personal Shopper on Call by contacting Rustan's one universal number, 0917-111-1952. Customers of Rustan's Cebu can enjoy complimentary delivery for a minimum purchase of P5,000.*
Christmas is a special season that highlights and treasures relationships. As the holiday vastly approaches, shop confidently with Rustan's wide selection of quality items guaranteed to make your loved ones' Christmas memorable during the new normal.
***
Shop-from-home with Rustan's Personal Shopper On-Call program. Contact Rustan's Cebu to request for the personal shopper service and a Sales Associate will be assigned to assist you with your inquiries, order confirmation and payment transactions. Fulfilled orders can be collected via curbside pick-up or items can be delivered to you for free, for a minimum purchase requirement of P5,000.*
*For Personal Shopper On Call, a minimum purchase of P5,000 automatically grants you free delivery for Metro Manila, Cebu and other Provincial Areas.
For purchases below P5,000, a fixed delivery fee of P200 for Metro Manila and Cebu addresses, and P300 for provincial areas will apply.
Extra-large packages will be charged P500 delivery fee for addresses within Luzon, while P750 is charged for delivery to Visayas or Mindanao.
Shop for your gifts through our Personal Shopper On Call, accessible through one universal number: 0917-111-1952.
Complete Terms & Conditions and additional information about the Personal Shopper on Call program can be found at www.Rustans.com.
Rustan's Department Store pick-up points and store hours:
Rustan's Cebu
Main Entrance, Cardinal Rosales Avenue
10:00 a.m. to 9:00 p.m.
Rustan's Makati
Main Entrance, Courtyard Drive, facing Glorietta 5
10:00 a.m. to 9:00 p.m.
Rustan's Shangri-La
Main Entrance, Internal Road of Shangri-La Plaza
Monday to Thursday 11:00 a.m. to 8:00 p.m.
Friday to Sunday 11:00 a.m. to 9:00 p.m.
Rustan's Alabang
Main Entrance facing Parking Lot of Alabang Town Center, Commerce Avenue
11:00 a.m. to 8:00 p.m.
Rustan's Gateway
Main Entrance, General Aguinaldo Avenue facing New Frontier Theater
10:00 a.m. to 8:00 p.m.