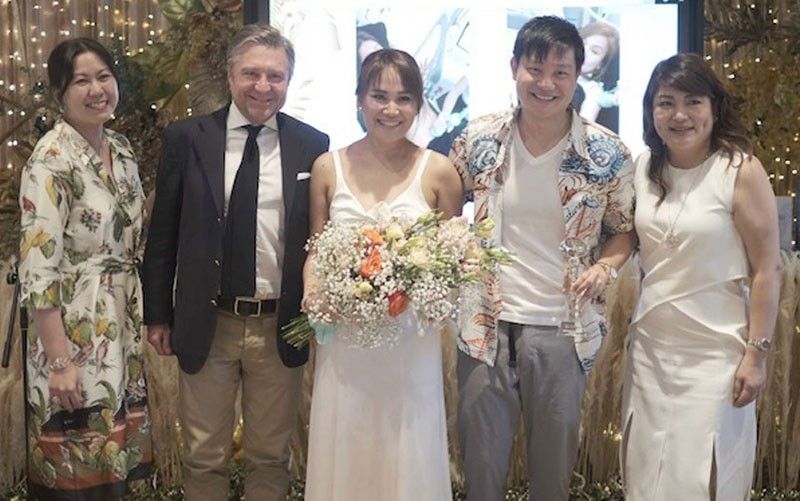 Aivee's Onda body magic: Most painless way to lose fat
The A Institute and Aivee Clinic's Aivee and Z Teo have always challenged the old maxim about "suffering in the name of beauty." During the launch of the newest body-contouring treatment Onda Body Magic, the doctor duo emphasized that, for them, it's "No pain, all gain."
Aivee says, "We always bring the latest treatments to the Philippines — we have not only one, but all technologies. The combination of treatments work best."
Onda is a non-invasive multi-tasking machine that painlessly and safely targets skin tightening, cellulite and fat reduction with the trademarked Coolwaves, which are special microwaves.
"I know radiofrequency, cryo, ultrasound, HiFu — all these technologies. When they told me Onda uses microwaves, I thought, 'That's different,'" Z shares. "But it's actually very simple. When we use microwaves, we put food inside for a minute and the food comes out hot but not burnt. How in the world did we not do this for a body machine? We need to get the fat cells to denature and prevent the heat from burning the skin."
The doctors brought in Italian laser surgeon and researcher Paolo Bonan to explain. "After the tissue is heated with microwaves, there is an oxygen reaction in the membrane and fat cells are destroyed in the membrane. A lot of drops come out and go to the lymphatic vessels and are eliminated in the natural pathways of the body."
Onda and Coolwaves technologies are both completely Italian. When asked for his tips to complement the Onda treatment, Paolo advises in all seriousness: "Make love."
Onda selectively targets fat cells to accelerate the metabolism of localized fat cells and stimulate production of new collagen by delivering Coolwaves through two smart hand-pieces: one for shallow and another for deeper areas of fat. The hand-pieces emit Coolwaves in a controlled manner, emitting energy only where it is needed. An integrated cooling system acts as a barrier between the Coolwaves delivery source and the skin, eliminating the risk of hot spots. As for the doctors and nurses administering the treatment, the machine also has an LED system display to ensure safety and effectivity.
During my 30-minute session targeting my tummy, I felt the coldness of the metal plate on the hand-piece transform into comfortable warmth. Since you can treat other areas like the arms ("the most challenging area to tighten," notes Paolo), inner or outer thighs, lower or upper abdomen, bra line and flanks in one appointment, it's easy to sneak in some naptime. Each session costs P10,000 per area. There is no downtime — no marks whatsoever — but I continued to feel warmth on my belly for a few minutes after my session, assuring me that Onda was doing its fat-melting work. Just to maximize my results, the nurse recommended that I refrain from consuming anything cold for an hour.
"A lot of patients continue to lose fat without any strategy in the gym. It's because this kind of energy is focused on the fat directly. We see results even in the patient who is carrying on with normal activity," says Paolo.
How is it different from the technology already out there?
"There is a great difference because those technologies — like regular radiofrequency — are not capable of penetrating the fat," says Paolo. "No needles or anything invasive are used, so it is safe to combine with other procedures. Onda and cryo are a good mix — they are opposites that can help one another: Cryo to reduce larger amounts of fat; Onda's heat to reduce stubborn localized fat and simultaneously tighten the skin and improve cellulite. They integrate well with each other."
Paolo has used Onda on patients who, after pregnancy or weight loss, want to tighten sagging skin in the tummy and thighs and eliminate cellulite. "They have worked hard in the gym but without results. We used to do liposuction and tummy tuck, but now we have reduced surgical treatments to 50 percent less because of Onda. It's for patients who don't want to go to surgery first." His patients saw an effect after 45 days and got Onda once a month and continued doing so up to for up to three sessions. He is currently developing Onda for double-chin application with a new hand-piece.
As with all beauty treatments, Aivee and Z recommend a healthy lifestyle for the most dramatic results. "We advocate a whole lifestyle change. We try to be good examples to our patients by eating healthy with our Dr. Food (medical prescription diet), and exercise. But for that pocket of fat or loose skin you can't do anything about, we have this technology to help you."
* * *
The A-Institute is at 3F Burgos Park Building, Forbestown Road, BGC, Taguig. Call or text 0917-7283838 or email info@aivee.ph for information.