Lifestyle
A children's party for Christian Baverey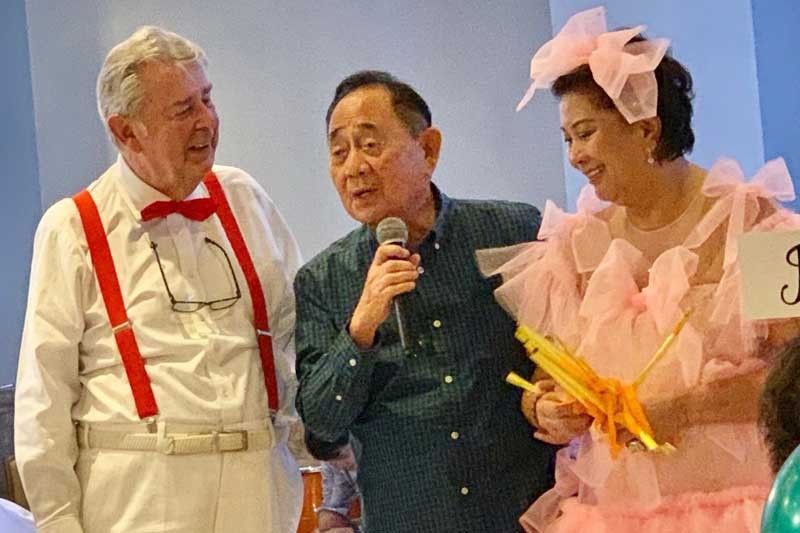 Christian Baverey turned a young 80 years old with a festive celebration that was organized by his wife, former supermodel and current European car rallyist Tetta Agustin. The original plan was to have about 70 friends celebrate with Christian, but with the couple's popularity, the party had over 120 friends who honored the celebrant, looking boyishly continental with his sky-blue blazer, red bowtie partnered with red suspenders and white Bermuda shorts. When questioned why Tetta entertained the idea of having a children's party complete with decorative balloons artistically placed all over the walls, table and ceiling, she laughingly explained, "I thought of a children's party because men are like children, and at 80 years, it's a second childhood!"
Right after the buffet dinner prepared by chef Jessie Sincioco of Rockwell Club, Eileen Sison and the sultry samba dancers started the ball rolling with the guests gamely joining in the rhythmic beat of the Guaranà band.
Assumption ladies Therese Coronel, Marivic Vazquez, Mia Borromeo, Cory Quirino and Tata Poblador stood out in their plaid uniforms since they comprised the majority of the female guests who proudly wore their school outfits, complete with white bobby socks and the required black boyish shoes. However, if there was a prize for best costume, the hostess would have handily won in her pink frothy ballerina-inspired outfit by young designer Jaggy Glarino, a Lulu Tan Gan knitwear awardee and Bench Fashion Design winner who has had shows in London and Tokyo for their respective fashion weeks.
Everyone of a certain age remembers Tetta Agustin — she broke barriers in the international fashion world when she moved to Paris at 23 years old; there, the stunning morena model became Hubert de Givenchy's favorite and lifelong friend. It was mutual admiration for both and he became the godfather of her only child, Tosca, who is not only a practicing lawyer at 30 years old, but has put up a successful wellness company in Lisbon, Portugal.
Christian Bavery is a scion of an important French industrialist family who has donated personal artworks to the Louvre. Though Tetta doesn't want to toot her own horn, her close friends know that for the past 37 years, she has been contributing personal funds to their own chosen charities in the Philippines. One of the priority projects is the construction of school buildings that are exclusively financed by the couple.
Though I had heard a lot about Tetta, I only met her about five years ago at the Metropolitan Museum's fundraising ball. She was a generous benefactor without any airs and when I introduced myself, she mentioned that she knew my sister-in-law Nanette Jacinto since the very early 1970s as they were close friends with the "It" girls and fashion icons of that glamorous and glitzy era, Tina Chow and Marie Helvin.
Usually based in Europe and the US, with homes in Paris, Cannes and New York, the well-liked couple make it a point to return to the Philippines during the winter months of December-April so that they can enjoy our warm climate and they list Boracay as a "must" every time they visit.
The enterprising Tetta is currently building a hotel in Tanauan, attending to her rental property and constructing homes in Tagaytay that will be for sale upon completion. With her good taste, they will surely be sold as soon as they are on the market. Despite a busy social and business calendar, she shares, "My favorite way to enjoy 'me time' is to listen to music and reminisce about the past."
When asked to describe her absolute favorite place, the world traveler replied, "That would be Kenya and South Africa which I find so peaceful and beautiful with a very different lifestyle that is so natural. I love the landscape and watching the animals, plus I am so lucky to have great friends in both cities."
The couple is always busy with their international social schedule as they join a special group of car rallyists in Europe and sail in their own yacht, Tosca. With Tetta's motto being "Carpe diem," they make it a point to seize the day and live life to the fullest — echoing her favorite quote from Eleanor Roosevelt: "The purpose of life is to live it, to taste experience to the utmost, to reach out eagerly and without fear for newer and richer experience."