Lifestyle
12 things to do on the 'SuperStar Virgo'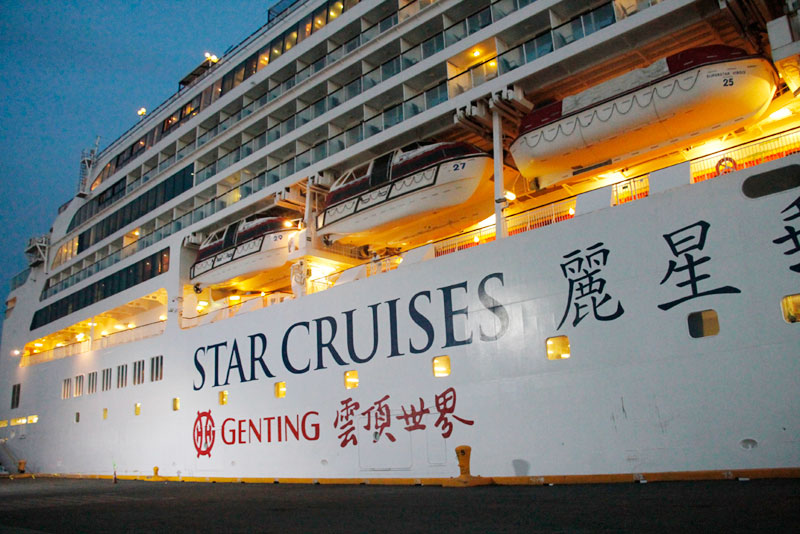 What am I gonna do on a boat for five days?" is a frequent pre-boarding question. Well, if you can hibernate for a week just binge-watching all seven seasons of The Vampire Diaries, you'll find plenty to do on a cruise ship. But don't stop at just hiding out in your cabin — here are 10 ways to enjoy onboard Star Cruises' SuperStar Virgo experience:
1. Relish the fact that you'll be going to Japan and Korea, visa-free. SuperStar Virgo's new summer cruises from Manila will provide a scenic journey to the popular tourist hotspots of Naha and Ishigaki in Okinawa, Japan, and the vibrant port of Keelung, Taiwan with easy access to Taipei. Perfect for the summer holidays, SuperStar Virgo's five-night cruise will allow Filipinos to embark on a new adventure with no visa required.
2. Think of it as one long spa day. Ocean views as far as the eye can see can be calming, even good for the soul. Meditate on the deck or check out SuperStar Virgo's range of wellness amenities, including a foot reflexology area, salon and spa, gym, steam and sauna rooms. Detox from city life (although there's WiFi onboard) while you sail across the seas.
3. Check out the aerial acrobats. SuperStar Virgo has a calendar of themed entertainment, constantly refreshed, for onboard fun. Check out the shows at the ship's two-level theater or the nightly performances at the ship's bars and lounge areas.
4. Swim in a pool in the middle of the ocean. There is a pool (with a friendly, 100-meter mega waterslide) on the ship's upper deck, as well as lounge areas and restaurants. Work on your tan, work your tan, have a cocktail or take a dip while enjoy real ocean breeze.
5. Eat all you can. It's no secret that SuperStar Virgo is generous when it comes to food. It has Chinese, international and Japanese restaurants, as well as an al fresco bar offering inclusive daily meals.
6. Ditch the kids and enjoy gala night. An old-school gala night, where guests dress to the nines in glittery gowns and suits, is the ultimate cruise moment. Let the kiddos hang at the children's activity center for a while and mingle with the adults, champagne in hand.
7. Bond with the group. Take your buddies to a game on the mini golf course, or belt it out your favorite songs at the ship's karaoke room. Don't pick a Celine Dion song.
8. Dance to the tunes of VST & Co. SuperStar Virgo launches her 2018 deployment with a throwback treat — the Greatest Hits Cruise — on its March 5 sailing. Headlined by members of iconic Filipino bands The Boyfriends and VST & Co., guests will be treated to a special concert cruise.
9. Forget Labor Day island parties, the party boat is here. SuperStar Virgo offers an alternative way to celebrate summer through the Labor Day Party Cruise on April 29. Sailing with two of the top Filipino club DJs, Patty Tiu of Deuce and Tom Taus.
10. Treat Mom to a dream vacation. On May 9, SuperStar Virgo will be sailing on its Mother's Day Cruise, with fun activities available for moms and their families. They will also be serenaded by one of the country's up-and-coming singers, Daryl Ong.
11. Treat the kids to their dream vacation. Pororo the Little Penguin brings his friends along for a cruise on SuperStar Virgo in May. With two shows every May sailing, Junior Cruisers not only get a chance to explore the wonders of cruising around Asia, they also get to watch Pororo and his adventures.
12. Get baller tips from the best. Philippine Basketball Association legends Alvin Patrimonio, Jerry Codiñera, Johnny Abarrientos and Benjie Paras will be conducting basketball clinics for kids on SuperStar Virgo on select dates. Make your kids' hoop aspirations a reality, or use the chance to meet these Filipino basketball icons.
Star Cruises, "The Most Popular Cruise Line in Asia," celebrates the upcoming return homeport deployment of SuperStar Virgo, taking guests on summertime itineraries to Naha and Ishigaki in Okinawa, Japan, and Keelung, Taiwan, beginning March 5. "Star Cruises is looking forward to returning to homeport in Manila especially after the fantastic support of our Filipino guests during last summer's debut of the Jewels of South China Seas itinerary," said Ang Moo Lim, president of Star Cruises. "We are also proud to continue to support the Philippine tourism industry with the first-ever homeport deployment of an international cruise ship in Manila, providing more options for the booming Philippine outbound tourism industry and developing the fly/cruise market for the country." With key sailing dates during SuperStar Virgo's three-month deployment in Manila, Filipino cruisers can enjoy different kinds of experiences during thematic cruise sailings.
* * *
For information, visit starcruises.com or starcruises.com/ph/en/ships/virgo.