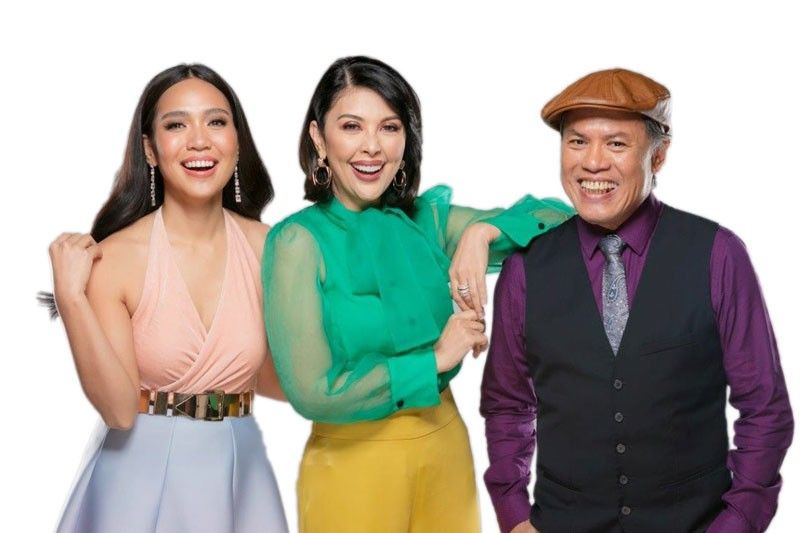 For Aicelle Santos, Pops Fernandez and Mel Villena, it takes more than having a golden voice and the ability to hit the right notes to succeed as a singer. And as judges of GMA 7's Centerstage, they're most willing to share with singer wannabes certain skills that contribute to what listeners consider as an excellent singer.
The musical competition, with Alden Richards and Betong Sumaya as hosts, aims to discover talented kids, ages seven to 12, who could become the next singing star. The contestants come from different regions of the country to compete against each other and try to outshine one another in a series of vocal performances until only one makes it to the centerstage.
During the presscon held at the Studio 7 of GMA Annex building, Pops, Aicelle and Mel admitted it is never easy to sit as judges, especially in a contest where the aspirants are children.
"It's hard to judge because there will only be one winner and there will always be people who will get disappointed, but somehow in the show, we will try to be more encouraging," said Pops. "We cannot be harsh lalo na sa mga bata. We wanna be encouraging and inspiring to the children as much as possible."
Aicelle said, "You can clearly see that all of them are determined to win. We want them to enjoy the stage and not fear the stage."
Mel agreed that it's a lot easier handling adults "because you can tell them (comments) straight but here we have to choose what we say but of course, we'll be honest of what we want to say so that they will also do the best that they can."
Asked what makes a great singer, all three judges pointed out the advantage of having the capability to command a stage with the correct body language and confidence. But that is not all. Pops, Aicelle and Mel also stressed the importance of finding the right song and possessing the ability of acting as conduit to pass along the emotion and story of the song.
"I always tell the parents or handlers whenever they ask for my advice that they should be careful with the choice of songs kasi kailangan ng bata na maintindihan ang kanta para alam n'ya ang tamang emosyon," Mel said.
Aicelle, on the other hand, has tips. "Just keep on practicing to fully hone your talent kasi habang tumatagal, gumagaling ka sa pag-kanta; meron kang certain placements na nadi-discover. Kaya kung paulit-ulit, unti-unti din tayong natututo.
"Then build on your strength and try to focus on it first and, last, you should never stop learning. For example, you are a biritera, it doesn't mean you are the best. Others keep on learning to have a broad range of tone. And every letter of the song has a story so one should be able to tell the story through song. That's what captures me as a judge, 'yun 'yung importante sa akin."
(Directed by Louie Ignacio, Centerstage airs Sundays at 7:40 p.m. beginning tomorrow, Feb. 16.)