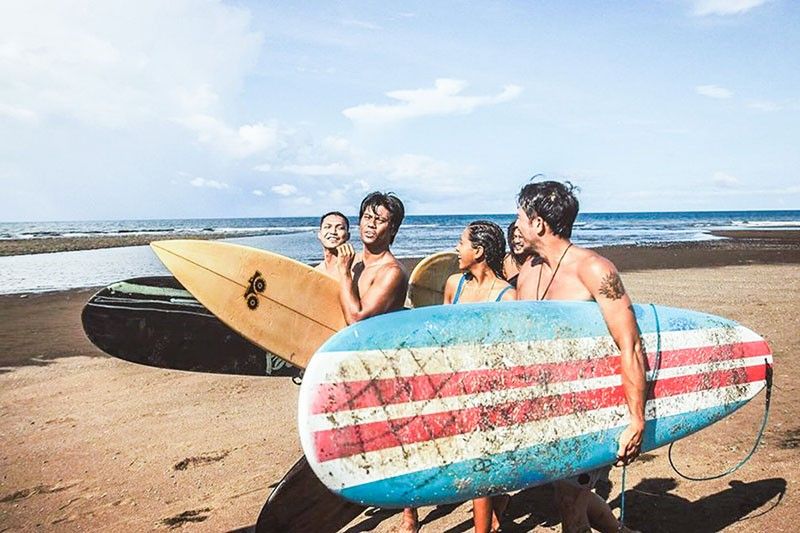 CEBU, Philippines — Imagine this: It's a lazy afternoon on your side of the coast but by no means a boring one. It'll be dark soon but you don't mind. The beach will still be here tomorrow. You're young, your surf board's waxed up and a beautiful woman is nestled in your arms. You've got no problems, no responsibilities, just waves to catch. The best part? You get to do it all over again for the rest of your days.
Some kind of life, huh? You can understand why some people would be willing to do whatever it takes to get there. Take the characters in "Mina-Anud," Carlo and Ding, childhood best friends who just wanted to be dealt better cards.
Ding, reasonable and hardworking, would be damned if he couldn't bring what his small family deserves. Carlo, single and very ready to mingle, would risk it all to be the best surfer in Borongan, Samar, get some respect, and get the girl. Even if they aren't exactly reaching for the stars, dreams have a way of being elusive.
Based in 2009 events in Eastern Samar, when tonnes of cocaine bricks worth more than any one in the sleepy fishing village could ever imagine got washed ashore, "Mina-Anud" is a different take on an otherwise serious issue. Besides drugs, it is also about the price you're willing to pay for your definition of success. The closing film of this year's Cinemalaya takes advantage of our common desires to make it, weaving a story that gets crazier by the minute, as wild as your imagination would allow.
Directed by Cebuano filmmaker Kerwin Go, the "tropical crime" starring Dennis Trillo as Ding and Jerald Napoles as Carlo is full of humor, easily earning the audience's sympathies, knowing full well how frustrating it is to be denied your simple wishes despite your earnest efforts. While it is a work of fiction, the film provides nods and references to what allegedly happened throughout the incident, said to have affected the drug ecosystem not only locally but even the Manila party scene, with people dropping by in yachts and helicopters to make the most out of the situation, including surfers like Carlo and Ding.
As Go puts it, "Mina-Anud" is a story he was "uniquely qualified to tell," being a surfer himself who is familiar with the incident and those involved.
While a strong premise gets the attention, the storytelling makes its viewers stay. As "Mina-Anud" progresses, even in the midst of hilarious anecdotes of residents using the cocaine as detergent and rat poison, viewers are suddenly hijacked into something else entirely.
Agents from the Philippine Drug Enforcement Agency (PDEA) arrive in paradise, says the bricks are drugs and are worth millions, and tell the fishermen to cough up all they've found. Just like that, the innocent take a bite of the forbidden fruit and the fine line between right and wrong is non-existent.
Unfortunately for the fishermen and the surfers, they learn that small fish get eaten by big fish, and bigger fish get caught by authorities and become endlessly burdened by a ridiculous arrangement that does nothing for them, compromising not only their freedom but also their safety just so they could do the dirty work for the ones in power with little to nothing to show for themselves.
At the end of the day, "Mina-Anud" is meant to entertain and deliver a little lesson. Go, who co-wrote the story with Stephen Lopez, said that the film is in no way an attack nor a criticism on the administration's war on drugs despite the corruption portrayed in the film. It also does not endorse drug use. Go just wanted to make people laugh instead of attacking them to prove some fine points.
If anything, the movie is a commentary on human nature: how for most of us, security is very much illustrated in the amount of money we carry in our pockets. Come to think of it, many of us are already living the life if we only saw the picture with better, much wiser eyes, if we realized early on that contentment isn't something you buy from the store but something you grow in your own backyard.
"The question is what will you do and how will your morals react if given the chance to change life in an instant," said Jerald of the movie's takeaway during the film's sneak preview at the Director's Club of SM Seaside City Cebu.
"Mina-Anud" is a cocktail of hilarity and heartache, sweet to the taste but later on burns your guts. It'll make you laugh and then it'll make you think, and then it'll make you feel grateful that a bunch of cocaine bricks didn't find their way onto your doorstep.
At the same time, it is proof that there is no shortage of interesting stories here in our islands. The fact that "Mina Anud" was presented abroad and ended up with a Philippine-based company means that we are ready for more of the off-brand, ironic, provocative, and meaningful offerings such as this dark comedy.
Produced by Regal Films and Epicmedia, "Mina-Anud," also starring Matteo Guidicelli, Dionne Monsanto, Alvin Anson, Anthony Falcon, and Mara Lopez will begin its commercial run next Wednesday, August 21.