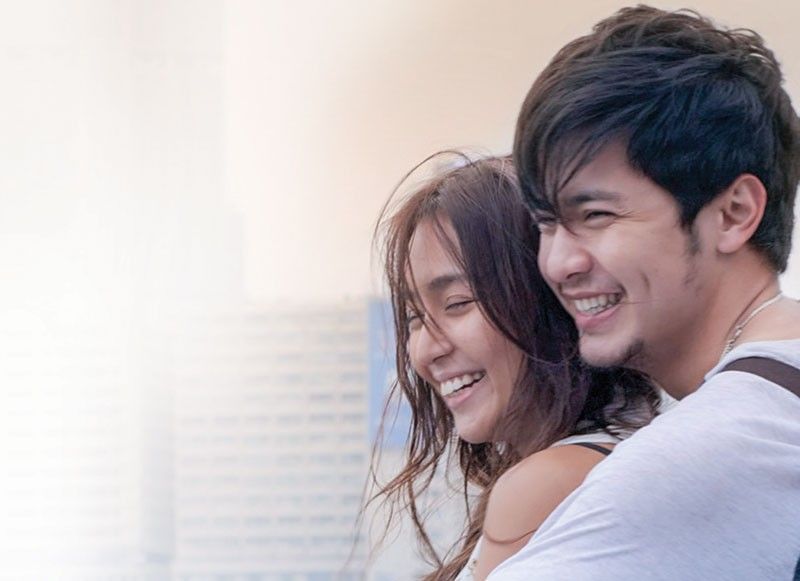 CEBU, Philippines — In their first collaboration, Kathryn Bernardo and Alden Richards easily became a team to beat with their film "Hello, Love, Goodbye" reportedly raking in more than P34 million on its first day in cinemas.
In a video interview with the Cebu press, Kathryn and Alden talked about their experience in putting "Hello, Love Goodbye" together. The Star Cinema film, directed by Cathy Garcia-Molina and written by Carmi Raymundo, is a romantic drama that centers on two Overseas Filipino Workers in Hong Kong, Joy and Ethan.
Joy (Kathryn) and Ethan (Alden) are two overseas Filipinos in Hong Kong with different goals. Joy is a domestic helper who is determined to do everything to have a better life, compared to the life she had as a child. Ethan is a bartender who is building a permanent life in Hong Kong but has always been afraid of commitments. In the process of getting to know each other, they also discover new things about themselves, which could possibly affect the plans they have in their respective lives.
The announcement of the tandem prodded people's curiosity with a lot keeping tabs on the project wondering how a Kapamilya and Kapuso (not to mention both their network's aces) could share the spotlight, and pull off a film, making "Hello, Love, Goodbye" among the season's most anticipated movies.
"Sobrang happy po and very thankful sa networks na nabigyan kami ng opportunity to work with each other," Alden quipped describing the pairing as a "once in a while phenomenon" in the industry. "Personally this is one the best choices I've made this year."
Kathryn agreed with his sentiments regarding the collaboration of both networks as far as the casting goes. Throughout their time together, immersing in the OFW life and shooting in Hong Kong for over a month, Kathryn said that any walls and inhibitions have been put down throughout the course of the making of the film. They chat during their free time and help each other on set, she said.
"Na-enjoy po namin, " said Kathryn, explaining that being together for almost 24/7 in a foreign country with co-stars helped in breaking the ice. "Sana maging start ito na pwedeng tumawid yung iba't-ibang artista to make a movie. Masaya po ang naging experience."
The "Hello, Love, Goodbye" stars apologized to Cebuano fans who looked forward to their visit. They said they all tried their best to push through the event but the circumstances just didn't allow it. The two have been so busy in fact, that they were fresh from TV appearances – Kathryn from the ABS-CBN music oriented show "ASAP Natin 'To!," Alden from GMA 7's "Sunday Pinasaya" –during the video interview with Cebu media, where they called from inside the van that was going to take them to two mall shows and their last round of promo.
The two thanked their respective fans for being so supportive of their project despite having solid pairings of their own. They also look forward to more opportunities like this where they will get to work together.
"Sa lahat mg sumusuporta sa amin ni Kath, both fans club, thank you for supporting us and giving this project a chance. Sobrang positive ng reception namin on social media, sa mga nakakasalamuha namin," said Alden, adding that this project proves that there is unity in diversity. "No matter how diverse the cultures and the mindset of people are, sometimes in certain things, like this project, they become united. Maraming salamat po."
The movie is likewise meant to showcase their acting evolution. Despite her role of Joy having similarities with her character in her last film "The Hows of Us" with on and off screen partner Daniel Padilla and which earned P35 million on opening day, Kathryn said that they worked hard to separate Joy from her previous role, making her unique despite being an OFW as well.
The stars were able to experience the OFW life for the movie, and with their month-long stay, have learned a thing or two about life there. Alden in particular was struck with the Filipino resiliency.
"No matter how hard life gets you in Hong Kong, they [OFW] still manage to be positive. There's always something to smile about, a common Filipino trait. Nabaon ko po yan up to this point," the actor said.
"Siyempre sa life may instances na mapapagod ka sa trabaho, sa obligations, and priorities, but sometimes all you can do is laugh it off and smile. The only difference is how you see it, mase-stress ka ba sa buhay mo or you'll be positive about it," he further shared.
Describing the movie as timely and relatable, Kath and Alden will be showing not only the struggles of wanting to provide for family but also the pains of being alone in a foreign country and honoring the things that we also want for ourselves. They also aim to paint a picture of how life as an OFW has changed.
"Ipapakita po namin ang kalagayan ng ating mga kababayan abroad, and how they are now. There's so much evolution that has taken place since, say, 15 years ago. Iba na po ang take ng ating mga OFW sa trabaho nila. Hindi na lang puro pamilya, dapat kasama na rin ang sarili," Alden continued.
Also starring Maymay Entrata, Maricel Laxa, Joross Gamboa, Jameson Blake, Kakai Bautista, Lito Pimentel, Jeffrey Tam, Lovely Abella, William Lorenzo, Maxine Medina, and Jerome Ponce, "Hello, Love, Goodbye," is currently showing in cinemas nationwide.