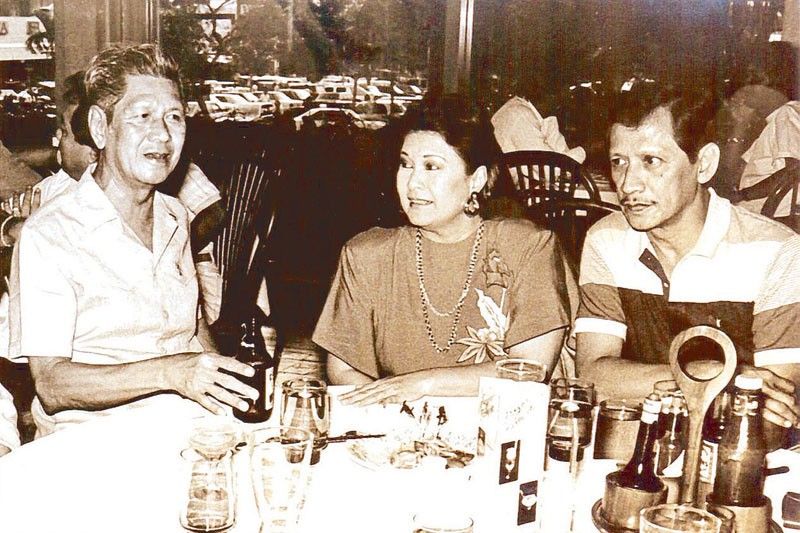 One thing I had observed before the pandemic is that while local indie film festivals have opened the way for a new kind of films to the Filipino movie-going public, they are failing to widen the circle of cinephiles who patronize them.
Sometime ago, the Metro Manila Film Festival (MMFF) made a bold move of selecting only "non-commercial" films for the festival. Many of those selected were indie films that would have made the grade in any indie film festival. That experiment crashed at the box office, to the glee of the sidelined commercial producers who have been saying that the masa only want the usual shallow entertaining fare, featuring their popular idols.
Which brings me to the question: Is there an audience for substantial cinema in the Philippines? Yes, I like to believe so, we just have to build it.
Happily, there is one development that opens the way towards building a critical mass of audience for more sophisticated cinema. But we need to grab this window of opportunity soon or we will miss it.
During the long lockdown when all gatherings became virtual events and happenings went online, people at home were treated to free showing of past award-winning movies from many festivals such as Cinemalaya and QCinema and even brand-new films, for purposes of raising funds for displaced movie workers and medical frontliners.
Many Filipinos who never set foot and attended any of past film festivals in their lives were exposed to these new fare from hardly known filmmakers. A quick scan of threads on FB and Twitter revealed a generally favorable reception, and even sparked critical exchanges.
Forced to quarantine themselves at home, Filipinos binged on movies, documentaries, old TV programs on YouTube, Netflix and other mainstreaming digital platforms. Korean dramas were the most watched. Which is not a bad thing because constant exposure to the production values and storytelling techniques of Korean fare are a good ground for developing sophistication in a viewer.
On Netflix, there is now a category reserved for Filipino films. Many Pinoy indie films which were ignored by the local theater audience found a home here. Guess what, several of the films landed at the top of the trending list of watched films, going toe to toe with Korean films and K-dramas.
To me, it indicates that there is a thirst for new better content among Filipino audiences. Majority are young urban college-educated Filipinos who practically live in the digital world. Let's not forget the millions of OFWs and overseas Filipinos who are avid subscribers of mainstreaming platforms.
For now, let's focus and build on this digital audience. I am sure the growth of this small mass will accelerate exponentially even beyond the pandemic, as analysts and experts predict. This is because the world is now being propelled towards digital space.
This new cinema viewer is a young digital native, who is visually sophisticated and disdainful of cheap productions which he can spot instantly. Exposure to streaming content is sharpening his acumen for good films.
In the light of this development, I believe the Filipino audience will soon be ready for films with better content.
What better content we can give this new audience than films that are based on Filipino literary masterpieces and award-winning dramatic works?
If one patiently peruses through these library-confined Filipino literary pieces, one can immediately see that they have all the elements and gamut of emotions that make for highly-appealing drama. More importantly, their works portray the positives about the Filipino way of life which helps create in us a native sense of self.
This new audience, I am sure, will be entranced by such works as The Pretenders, Villa Magdalena, The Rosales Saga, The Woman Who Had Two Navels, The Bamboo Dancers, Without Seeing The Dawn, Ilaw sa Hilaga, Ang Mundong Ito sa Ibabaw and Galaw ng Asoge, just to mention a few from the unlimited smorgasbord of neglected masterworks. Why not also include Palanca and CCP Virgin Labfest award-winning plays?
These works are wrested from the Filipino artist's heart and mind, mirroring the universal human condition that similarly characterizes the works by Tolstoy, Chekhov, Flaubert, Victor Hugo and other great masters. On Netflix, I saw excellent film adaptations of the stories of Rabindranath Tagore, one of India's literary masters. Why not produce modern, technically polished adaptations of Noli and Fili?
Offering these film versions of our great literary works to young Filipinos will be an ingenious and engrossing way to "feed" the essence of these books into their hearts and minds. Watching film versions of novels by Nick Joaquin, Edgar Reyes, Resil Mojares and other compleat masters should well serve as their appetizer to great prose, hopefully spark a love of reading and literature.
Let's use this disruption in our movie viewing habits to offer our young people better, more substantial content that engages them emotionally and intelligently. A cinema that is meaningful, provocative and progressive.
Why not also invest in pursuing developmental activities along the line of film appreciation and film criticism. It's one way of building critical, demanding cinema goers who will be the foundation for a vibrant new Philippine cinema and television industry.
When this happens, we will no longer have a need for festival juries and movie and TV critics because the ordinary viewer would have been transformed into an empowered and enlightened critic himself.