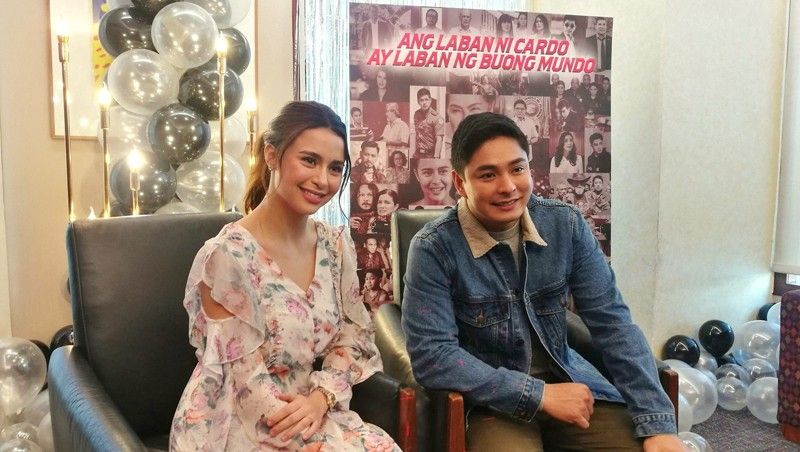 Curtain-raisers:
• A new singer is making people wonder about how she has "evolved"…from a simple probinsyana (gifted with a sweet voice) to a sophisticated young lady now noted for her sartorial elegance and "refined" manners. She has also traveled the world for pleasure and not just for showbiz-related events. Credit for her transformation should go to her handsome and moneyed non-showbiz boyfriend. She made a good choice; she has, in a manner of speaking, struck gold.
• A dashing actor is fast becoming, well, "kissing bandit." At a recent beauty pageant in a nearby province where he was a guest performer, he didn't only sing with gusto but also had a field day planting kisses on the pretty contestants. Yes, all for fun. But the girls' boyfriends (who were in the audience) were not amused. They were piqued by the actor's uncalled-for PDA (Public Display of Affection).
• These post-Valentine excerpts from love songs are dedicated to a celebrity "un-coupling." For the wife (from Just When I Needed You Most): You packed in the morning/I stared out the window/And I struggled for something to say/You left in the rain without closing the door/I didn't stand in your way…). For the husband (from Good Riddance (Time of Your Life): Another turning point, a fork stuck in the road/Time grabs you by the wrist, directs you where to go/So make the best of this test, and don't ask why/It's not a question, but a lesson learned in time.
***
Will the long-running FPJ's Ang Probinsyano end on March 30 when the ABS-CBN franchise expires (let's hope and pray that it will not)?
That's the big question in the mind of the followers of the Coco Martin-starrer TV series which is marking its fifth anniversary in September. Some people believe that the show has already hit its saturation point, that it has tackled every issue there is to tackle, but tell that to Probinsyano loyalists and they might lynch you (heaven forbid!).
Asked when really is "the end," Lorna Tolentino is, like most everybody, "clueless."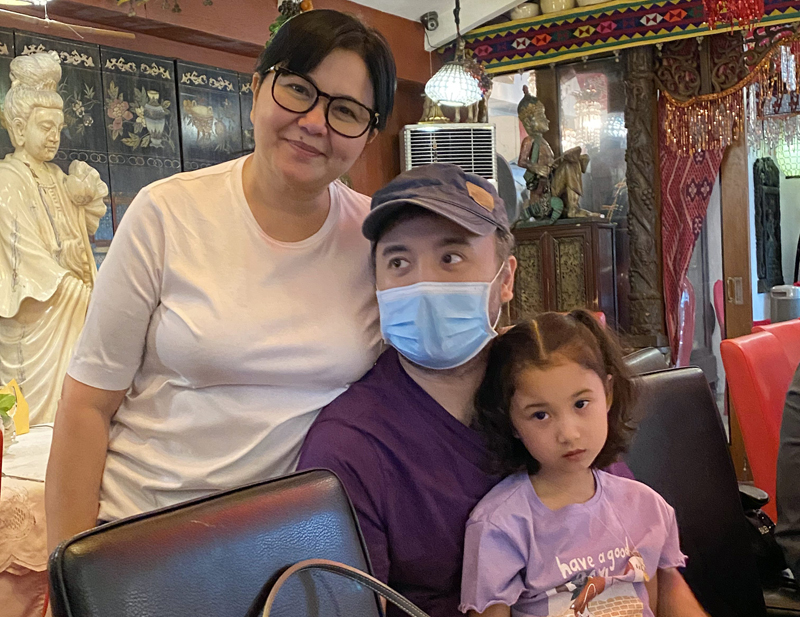 Lorna Tolentino with son Raphael and his daughter Victoria during the recent birthday lunch for Gorgy Rula at Café Juanita.
Ricky Lo
As Lily, now the wife of the president (played by Rowell Santiago), LT only said, "I heard that hanggang May daw, ha. But I'm not sure." (Funfare talked to LT during the recent birthday lunch for Gorgy Rula at Café Juanita. LT came with son Ralph and his eight-year-old daughter Victoria/Tori, LT's first and only apo…so far.)
There were reports that…would you believe!...foreign actors like Antonio Banderas, Penelope Cruz and Tom Cruise were being hired as guests but that turned out to be, uhm, fake news. The joke is that the only foreign actor guesting is Billy Crawford, holder of a foreign passport.
LT was supposed to be in Probinsyano for only 10 days but her role has been growing and growing, until she has lasted for more than 11 months (she started on March 1 last year).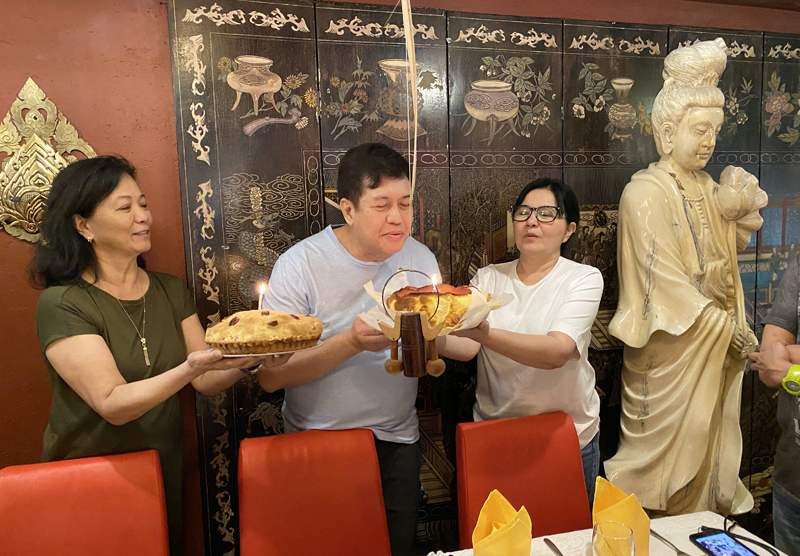 With Malu Choa-Fagar helping Gorgy blow candles on his Estrel's birthday cake.
Ricky Lo
"My last day would have been on Feb. 1," said LT, "and look, tuluy-tuloy pa ako."
Incidentally, LT confirmed that she is knocking down the 40-year-old house in White Plains, Quezon, which she shared with her late husband Rudy Fernandez and their sons Renz and Ralph. In its place will be built a compound with a triplex (one for her, one for Renz and the third for Ralph).
"Kanya-kanya kami," clarified LT, "but we will be neighbors pa rin."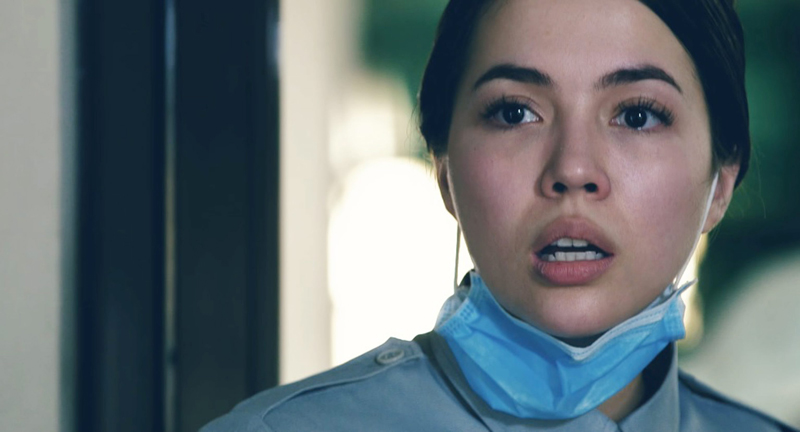 Coco's girlfriend Julia Montes who is making a comeback in the Dreamscape original series 24/7.
The 'mystery' that is Julia Montes
…a mother's undying love for her child, a love that never sleeps…
Oops! Before you jump to conclusion, let me hasten to clarify that that description is about Julia Montes' character Mia in 24/7, the ABS-CBN teleserye which marks her comeback after an almost two-year absence marked by a persistent rumor that she had gone abroad to give birth.
Up to now, neither Julia nor her boyfriend Coco Martin has denied or confirmed the yarn, not even now that Julia is back in the limelight. Probably upon the ("cautious") reminder of her handler, Julia has remained tight-lipped, oblivious of the fact that the more she is evasive the more defensive she becomes, convincing people that she is hiding "something."
Like a heron with its neck stuck in the sand, Coco is walking with a "fatherhood" rumor swirling around his head. Really now, what is keeping this couple from being honest and making a clean breast of it, and thus stop the guessing game?
The other big question is: Is Coco ready to marry Julia (presuming that they are an item even if they refuse to confirm it)? Oh yes, he can ­— that is, if he clears a legal impediment.
A Dreamscape original series airing starting next Sunday, Feb. 23, 24/7 follows Julia's character Mia, a single mom and a security guard who will do everything to save her son from dying from a new strain of dengue, while a company is mass-producing a treatment but chooses to hide it from the public.
Directed by Emmanuel Q. Palo and Darnel Villaflor, 24/7 boasts of an all-star cast that includes (among others) Arjo Atayde, Edu Manzano, Pen Medina, JC Santos, Denise Laurel, Joross Gamboa, Melissa Ricks, Eric Fructuoso, Joem Bascon, Amy Austria, Meryll Soriano, Matt Evans and McCoy de Leon.
Julia is also in the cast of Burado, another Dreamscape production.
(E-mail reactions at [email protected]. For more updates, photos and videos, visit www.philstar.com/funfare or follow me on Instagram @therealrickylo.)