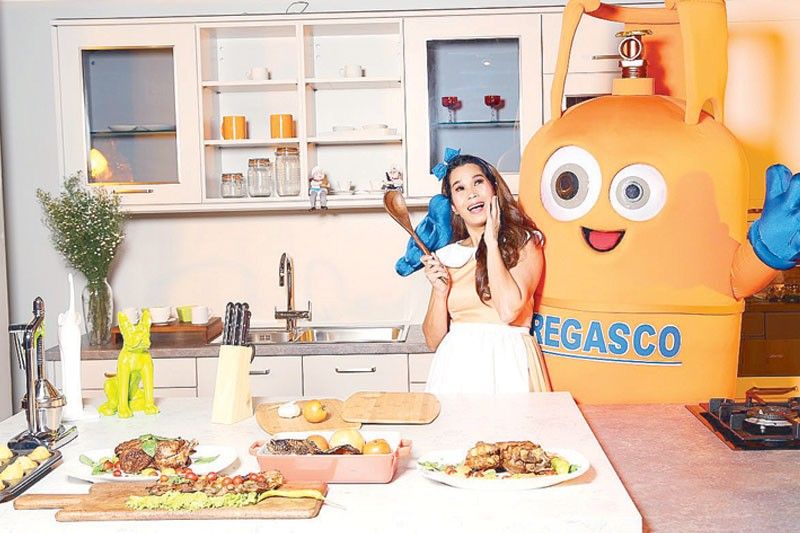 A couple of months ago, Pokwang's plans were pretty much down pat. She was just declared Regasco's endorser, a role right down her alley since she is known for her food blogs and delicious cooking. She was also deep into filming a Mother's Day movie, Mommy Issue, with Gloria Diaz, Sue Ramirez, Ryan Bang and others. Of course, she was simultaneously playing her real-life role as wife and mom at home.
Then, came the lockdown and everything radically, abruptly changed.
Pokwang is doubly grateful for being the face of Regasco, knowing full well the importance of having steady LPG supply during these uncertain times when Pokwang is whipping up her culinary masterpieces not only for her family and friends but also for frontliners and the underprivileged near her place in Antipolo City. It must be noted that Pokwang was among the first celebrities to do it.
"I am happy that Regasco has been looking after its employees not only in benefits but also in the observance of safety and health protocols in its plants," noted Pokwang.
Since she has already released a cookbook featuring recipes of traditional favorites and, as she says, are all "hubby-approved," Pokwang is now focusing on sharing recipes ideal for quarantine situations on her YouTube channel, meals that are inexpensive, with accessible ingredients and as healthy as possible.
Filming for her movie has been put on hold. Even if there will be a shift from the lockdown to GCQ (General Community Quarantine), Pokwang has reservations and would rather proceed with caution, "Paano kung magkahawahan, eh wala pa namang vaccine o gamot? Baka pati ang pamilya ko mahawahan ko, mahirap na."
With her colorfully dramatic life, Pokwang has a wealth of experiences to draw from to make her performance more authentic and engaging.
"I prefer the energy of the live events to taping, because everything is in real time, not repetitive and unpredictable," she said. "Plus, I love the instant reaction of a live audience."
But all that is poised to change after the global health crisis as more and more protocols are set in place. She has reservations about immediately resuming filming and doing events.
Pokwang added, "Hindi puedeng puro pera-pera lang ang iniisip, dapat konsiderasyon din sa kapwa para hindi magkasakit lahat. Pero sa totoo lang, kawawa ang mga out of work people and the country lacks money to feed them."
Still, Pokwang knows there is hope. She shares a message to all the mothers who are struggling under the strain of domestic lockdown and even financial or mental issues. "Sa mga nanay o mga magulang na nasa tahanan ngayon na lubos na apektado ng lockdown dahil sa COVID-19, don't lose faith, be strong and stay home, stay safe. And don't forget to pray. We will overcome, this too shall pass. God bless us all."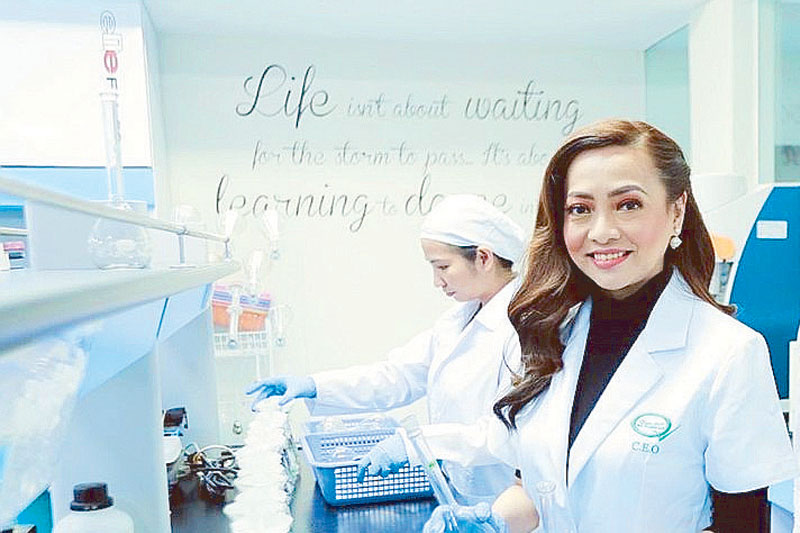 Chemist Pinky Tobiano at her laboratory.
Time out from producing concerts
Producers are clueless how concerts will be mounted post-COVID-19, so they are on a wait-and-see stand. One of them is Pinky Tobiano who has been partnering with Cornerstone in producing concerts (that's why she has many showbiz friends). She has produced two albums with Star Records, one of them titled H.O.P.E. (Healing Of Pain & Enlightenment) for cancer patients. In the meantime, Pinky, a chemist, is busy producing something just as essential as entertainment — disinfectants, etc.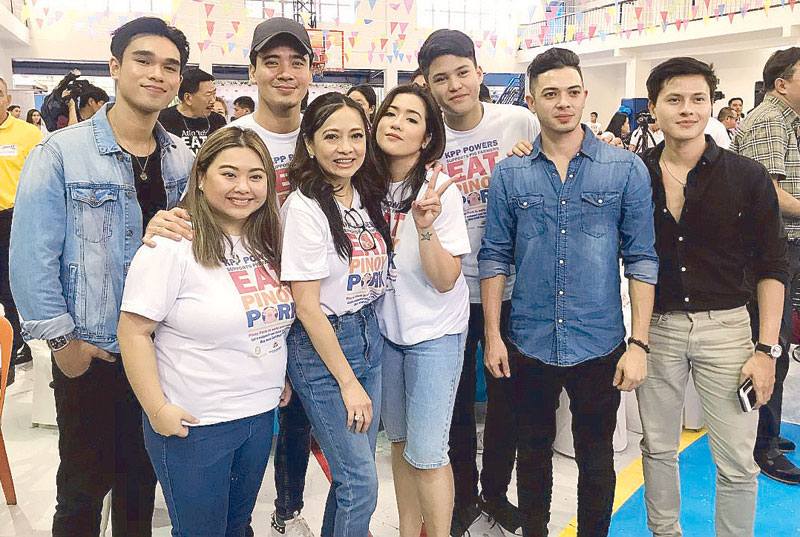 With her daughter Pianne (to her left), Angeline Quinto (to her right), Dave Lamar (to Angeline's right), Erik Santos (second from left, back row) and other showbiz friends during a lechon festival last year.
Noted Pinky, "The demand for disinfectants in our laboratory increased for Viralcyde Max since the components, Gluteraldehyde and Benzalkonium Chloride, have been strongly recommended by the World Health Organization (WHO) to fight against COVID-19. But what makes it super special, we have added French Essential Oils to create a great scent and it purifies the air."
She added, "Viralcyde Max has recently collaborated with the lead Filipino retailer Plains and Prints and together, we have innovated fashion and safety. All the merchandise of Plains and Prints have been sanitized with Viralcyde Max to ensure the safety of its buyers."
Pinky graduated from the University of Sto. Tomas and took further studies at the Harvard Business School. She has collaborated with international laboratories for further research and studies. And in this time of COVID-19, her Qualibet Testing Services has been helping hotels, restaurants, resorts, dental clinics, hospitals establish their safety protocols, and conducting swabbing tests on surfaces, in the kitchens, elevators and door knobs to check the bacterial count of these surfaces on a regular basis to protect its clients.
She has likewise just started her own talk show to help the Filipino in the awareness of how to be protected against this COVID Virus — Essential Cleaning Tips by Chemist Pinky Tobiano, under CSTV (Cornerstone Entertainment), streaming on Facebook Live Thursdays at 2 p.m, in which she gives away prizes like Globe loads, cellphones and laptops.
(E-mail reactions at [email protected]. For more updates, photos and videos, visit www.philstar.com/funfare or follow me on Instagram @therealrickylo.)