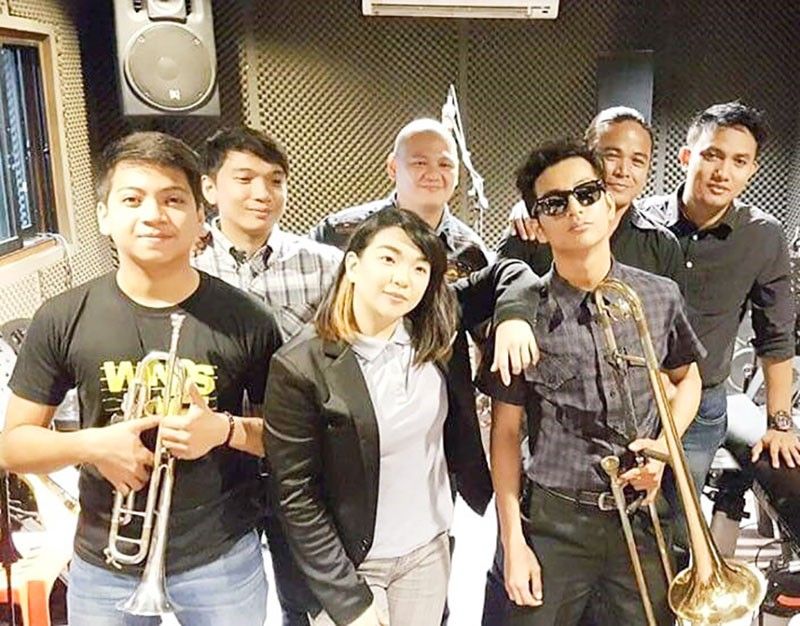 Pinoy SKA band to release debut album
One of the performers at tomorrow's PhilSka Music Festival is Zcentido, a Pinoy SKA band with Richard Cruz as leader/drummer and MJ Cruz as lead singer.
Also part of the band are Gary Ragay (bassist), Christoph Alday (guitarist), Joseph Jamorol (keyboardist), Patrick Blanco (trumpet) and Jericho Garcia (trombone).
They are all excited and ready to showcase their first album titled "Unang Hakbang" which has five original songs, a cover song ("Mamang Sorbetero") and their carrier single "Ikaw, Ako, Tayo."
With the help of Mr. Nikki Silvestre Cunanan, an award-winning sound engineer, all songs were mastered and recorded.
Zcentido is the kind of band that Filipinos should listen to. They have that sense of artistry. It is a band who knows their core. A band who always makes sure that originality comes first.
Zcentido is set to perform live at the PhiSka Music Festival 2018 on December 1 at Mayflower Parking, Greenfield District, Mandaluyong City at 2 p.m. Another exciting experience for the band is that they are sharing the stage with two international Ska bands: "Beat Bahnof" and "Red Stripes."
When asked about their music influences, the band members cited "Put3ska," an original Pinoy Ska Band which popularized "Manila Girl."
Ska music is a genre that originated in Jamaica in the late 1950s and was the precursor to rock steady and reggae. Mr. Noel Salonga, founder of the PhilSka community, gives his vision which is to create a community of not only musicians but a group of people who deeply appreciate Ska music.
Since the group has already reached 3000 members and are still growing in number locally and is recognized internationally, he thought this is the time to have a grand eyeball with everyone.
He hopes that PhilSka Music Festival will prove that Ska music can be mainstream too. It's about time the millennials hear Ska music.
***
The Ex Battalion, LJ Reyes, Benjamin Alves, Jan Manual, Ashley Rivera, and Klea Pineda are the featured guest stars in "Bubble Gang" tonight.
Among the segments to watch out for are Christmas Caroling and Kaya na ng Ex Ko gags, Fact Boy where Betong plays an overly intellectual man giving facts about chicharon; Jackie Rice and Michael V play a couple who is throwing a gender reveal party to let friends and family know about the baby's sex and name; and Bitoy as a doctor who explains their hospital payment policy to his patient's family in the segment titled Prepaid Hospital.
***
Businessman Dexter Villamin, owner of DV Boer Farm International Corporation, turned over 20 bancas to the fishermen in Lian, Batangas last week.
The formal turnover was done at the Matabungkay Beach and Hotel, and was attended by AFP, PAF and DSWD officials along with media attendees, mostly from national dailies and news networks.
The bancas, produced by workers from Barangay Hukay in Calatagan, are part of a total of 50 "Banca ni DV" to be distributed in Lian, Batangas in line with Oplan Pamamalakaya. The other 30 will be given out soon to fishermen residing in Brgy. San Diego.
Recipients of Banca ni DV are former NPA rebels who have turned to fishing for livelihood. The bancas, with 7.5 horsepower, measures 20x27 inches and is equipped with two life vests, dash camera, paddle, net (lambat pangawil), cooler, compass and flashlight.
Last Nov. 12, an orientation seminar attended by around 30 of the fishermen-recipients was held where DV (Dexter Villamin) shared his advocacy on providing livelihood for fishermen and farmers.
This project is being undertaken by the Special Project Department of DV Boer Farm International Corporation in cooperation with banca workers headed by G. Narciso Aleroza and Rolando Gomez.
This banca project by DV calls to mind a similar project by Cong. Lucy Torres-Gomez, wife of Ormoc Mayor Richard Gomez, who also donated bancas to fishermen in Ormoc, in cooperation with Bench clothing company.
Dexter, who also hosts a show on PTV-4 titled "Magsasaka TV," said it has been his dream to help the fishermen and farmers in Batangas where he was born.
"I want them to dream big just like what I did. If I can be successful, they too can," he said.