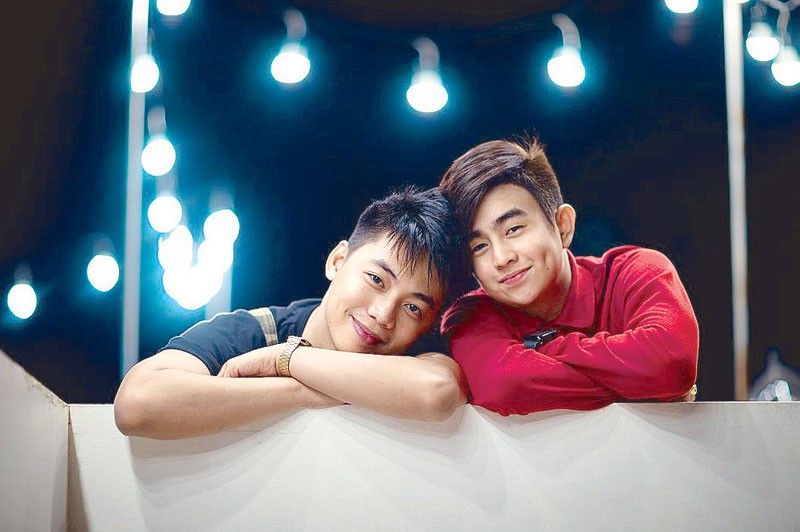 MANILA, Philippines — "Not necessary but possible," said director-writer Carlo Obispo who neither admitted nor denied inclusion of romantic moments particularly kissing scenes in the BL (Boys' Love) series titled Better Days which will begin streaming today.
"I will not tell whether there are kissing scenes or not but what we challenged ourselves with while conceptualizing this was how this BL would work without necessarily getting into those scenes because what we really want to push is how a relationship could help in achieving goals in life. We want to show in the series ang pag-tutulungan ng isang (same-sex) couple para maging successful ang isa't-isa."
The six-episode digital series is a perfect way of brushing off negative impressions on same-sex relationships. It goes beyond the usual romance-filled BL series. "We will highlight other aspects of love and relationship. This is more than physical na pagpapakita lang ng katawan. We focused on the happiness of having a partner who can be an inspiration to grow and succeed in life."
Portraying lead characters Aron Villegas and Kian Nuestro are online personalities Benedix Ramos and Chesther Chua, respectively. Both of them are popular YouTube content creators, each with over 100,000 subscribers.
According to Benedix, he right away agreed to do the project without even knowing the story first "because it's my first time to get a lead role in this kind dahil puro web series lang 'yung ginagawa ko. But when I learned it's for a BL series, I didn't focus on the character but on my being an actor."
Chesther, on the other hand, said that it's a new experience for him to play a character in a BL series and he fully embraced the challenge that came with it. Prior to accepting the part, Chesther asked the consent of his parents and explained to them his character "for them to be aware of my role and happily, they agreed so I'm excited for its release."
Regarding intimate scenes, Chesther said he doesn't mind doing kissing scenes "na-smack lang" and as long as he is not required to go topless "kasi wala akong abs, hahaha."
"For me, as long as it is needed in the story, I will do it. Hindi p'wedeng mag-kiss lang basta, it should be in a proper context."
According to Carlo, Better Days centers on the story of childhood friends who meet again after being separated for a long time to study and work in Manila. Aron (Benedix) works as a chef while Kian (Chesther) is a famous vlogger. They agreed to meet again to revive the restaurant put up by their parents. But while working together, Aron and Kian find themselves falling in love with each other.
Carlo shared that while he and Unframed Film executive producer Kristian Villaflor were in a brainstorming session, they both agreed that they wouldn't dwell too much on intimacy but on something inspirational.
"The story of Better Days is inspired by real-life couples who realized their dreams. Well, we have a lot of friends like in the industry alone, may mga BL couples na they share their dreams; 'yung love nila is founded on ambitions, goals and dreams nila at sabay nilang ina-achieve together," said Carlo, also the director of such critically-acclaimed indie films as Purok 7 (Zone 7) and 1-2-3.
Carlo also amusingly shared how he asked Kristian that he would do the BL series on the condition that the shooting would happen in a lock-in set in either a resort, farm or rest house due to the pandemic.
"I was surprised to know that after we talked on the phone one night, Kristian would call the following day telling me that he has a rest house in Laguna," said Carlo who stressed that despite the lock-in set-up, it still remained a challenge to shoot in the middle of the pandemic given the safety protocols that they needed to follow.
Fortunately, Carlo and the production team were able to focus on the good things brought about by the lockdown. "We took it into our advantage because we had this sense of urgency to move swiftly in order to finish quick given the uncertainty of the quarantine period. Hindi namin alam kung mag-lo-lockdown ulit and of course, we also have to make sure about our safety."
Better Days, Kristian added, also highlights Filipino culture particularly the delectable dishes that we are proud of and outstanding values that make Filipinos distinct from other nationalities.
The digital series, produced by Unframed Film Production and co-produced by LoveJohn Media Productions and Uncle Scott Global Productions in cooperation with Rough Road Productions, will be streamed on UnframedFilm YouTube channel.