For thousands of entertainment industry workers, the death of Maria Azucena "Manay Ichu" Vera-Perez Maceda on Sept. 7 of cardio respiratory failure was devastating. Manay Ichu was the driving force behind organizations and events that uplifted and professionalized Philippine cinema, such as the Film Academy of the Philippines (FAP), the Philippine Motion Pictures Producers Association (PMPPA), the Film Development Council of the Philippines (FDCP) and the annual Metro Manila Film Festival (MMFF).
The closest organization to her heart, however, was the Movie Workers Welfare Foundation (Mowelfund). Following her death, Manay Ichu's family requested that in lieu of flowers, donations be made in her honor to Mowelfund instead.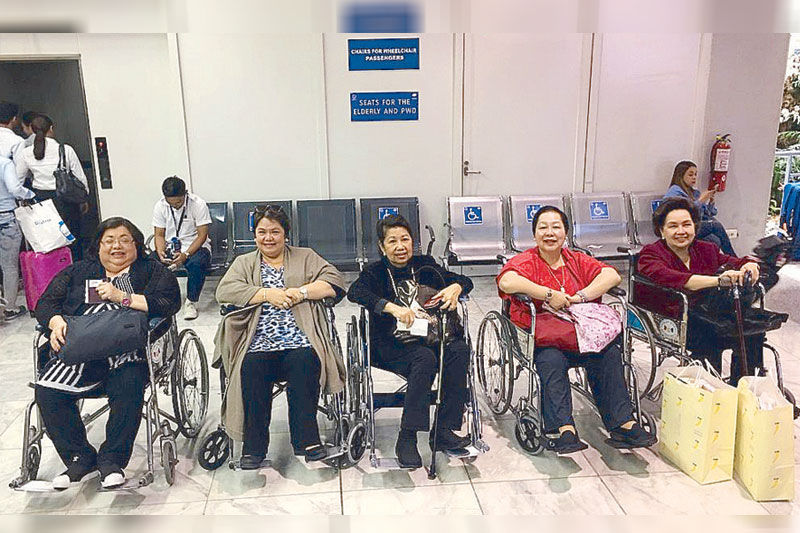 Wheelchair ladies upon arrival in Manila from Osaka: June Rufi no, Betchay Nakpil, Manay Ichu, Dolor Guevarra and Susan Roces.
Despite her status as a film industry pillar and icon, however, I believe that what she enjoyed most was playing mother hen to those whose company she enjoyed. For nearly 20 years, Manay Ichu and I belonged to the "dabarkads" which included Susan Roces, Helen Gamboa, Mother Lily Monteverde, Tita Dolor Guevarra, Shirley Kuan, June Rufino, Malou Choa-Fagar, Tony and Mads Tuviera, Veana Fores, Ricky Lo, Danny Dolor, Ronald Constantino, Law Tan, Bechay Nakpil, JP and Anes Plata, Gello Jamias and Sen. Grace Poe.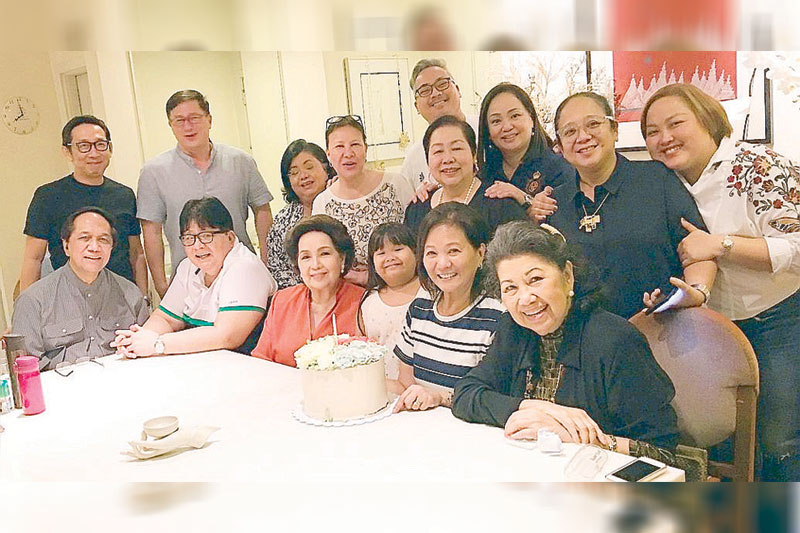 One of many dinner parties at Law Tan's place with Eric Quizon, Danny Dolor, Ronald Constantino, June Rufi no, Susan Roces, Ryza Mae Dizon, Shirley Kuan, Gello Jamias, Dolor Guevarra, Malou Choa-Fagar, Veana Fores and Jaypee Victorino
In the early 2000s, our regular get-togethers were dinners at Manay Ichu's place in the Sampaguita compound. There, she treated us to family specialties like chicken and pork adobo, laing and sinigang na baka. My favorite was her famous lumpia prito, which had ground beef and hard-boiled egg, very similar to Ilocos empanada. When she grew tired of her family's signature specialties, we moved to Law's condo and opted for pot-luck dinners so we could all try new dishes.
Our dinners were always loud, with everyone talking and laughing at the same time. And because there was always more than enough food, we could take home whatever we couldn't get enough of. Manay Ichu always made sure she had some food set aside so she could enjoy it again the next day. I remember a dinner where Tita Dolor made paksiw na tilapia specially for Manay Ichu to take home. The following day, Tita Dolor received a call from a very upset Manay Ichu, who complained that someone had eaten the fish she brought home. Tita Dolor said that maybe it was a cat that ate the fish, to which Manay Ichu retorted that it must have been a smart cat because it ate everything, except the head!
After that, whenever Manay joined us for dinner, she would instruct her yaya to make sure her food was safely tucked away. On another occasion, we were all in Bangkok and decided to have lunch at Or To Kor. After a heavy lunch, Manay Ichu pulled out a couple of plastic containers from her bag because she wanted to bring a few kilos of the crackling pork back to Manila!
I know how miserable she became when her doctor advised her to cut down on meat, sweets and salt. After that, she'd often complain how bland her food tasted and how tired she was eating fish. But once in a while, she'd defy her doctor and "pinch" an irresistible dish just to try it.
My most unforgettable and heartwarming experience with Manay Ichu was when Mark Lopez and Carlo Katigbak sought her support for ABS-CBN's franchise renewal. As expected, her son Cong. Edward Maceda and nephew Cong. Toff de Venecia were two of the 11 congressmen who voted "yes" for the renewal. Manay Ichu texted me a couple of days after July 11 to express her sadness that ABS-CBN was not granted its franchise renewal, because she strongly believed that Filipinos needed to be informed and entertained even more during the lockdown.
The last text message I received from her was on July 27, when she promised that we would see each other soon, but that we had to be patient. She also reminded me to entrust everything to the Lord Jesus and ask Him to help us endure these unprecedented trials. To her comforting motherly message, I replied that I had indeed lifted everything to Him, and that I loved her.