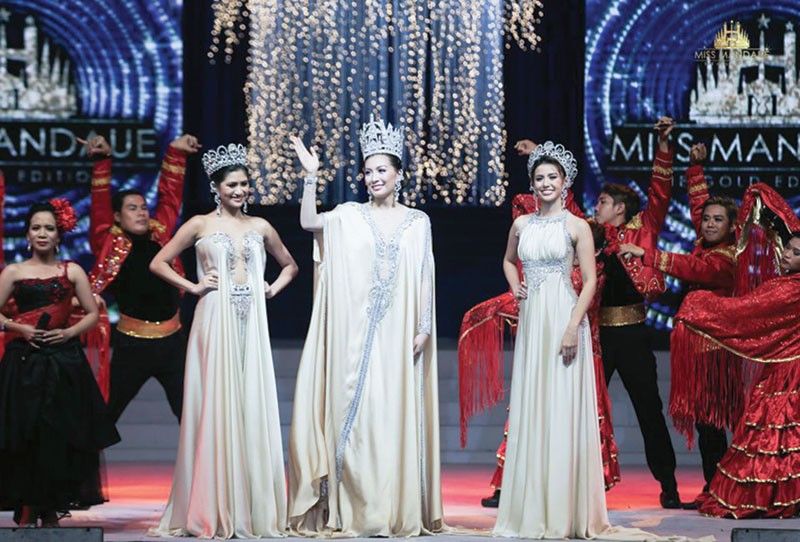 CEBU, Philippines — Breaking from tradition, Miss Mandaue 2018 Gabriella Ceniza Carballo bowed out memorably by delivering a farewell speech live at the Miss Mandaue 2019 Coronation Night.
Whereas past Miss Mandaue winners just had the customary Farewell Walk and did not have pre-recorded speeches playing in the background like national pageants do, Carballo surprised followers of the long-running pageant when she was handed a mic after she and runners-up Regine Garcia and Phoebe Godinez sashayed on stage in golden Cary Santiago gowns.
"How are you feeling tonight? The show has been beautiful, hasn't it?," the radiant 49th Miss Mandaue title-holder began in what the Miss Mandaue organization described in a Facebook post as a "historic moment" and a "powerful speech."
"You looked just as beautiful as you did when I was standing on this same stage simply as candidate number 12, with the drive and the dream to wear the crown that I am wearing right now," she said.
Carballo then shared that she did at least four revisions to her speech, before ultimately deciding to speak from her heart.
"My life-long philosophy has always been that the best way to create your future is to create it yourself. Through Miss Mandaue, I have learned that life is a painting in progress. And I have garnered the skills and tools that I need from my mentors and trainers," Carballo continued.
"After Miss Mandaue, I can say with sureness that I have started my painting by dipping my paintbrushes into the hues of morals and values to carry me on for the rest of my life. I think Miss Mandaue has taught me that I am the artist of my own masterpiece. And we can all make a difference as long as we have the right people behind us to push us forward and make a change."
She then thanked God, her family, her grandfather Ramon Ceniza ("a symbol of love and service for Mandaue City"), her pageant camp Kagandahang Flores-Cebu, and her mentors at the Models' Association of Cebu.
The Nursing student at Cebu Doctors' University also expressed gratitude to Mandauehanons, singling out the grade four to six pupils of Mandaue City Central School who were part of her Green Wave advocacy project.
"You all have told me how much I made a difference in your life," said Carballo of the students, before adding, "But nausab akong kinabuhi tungod ninyong tanan."
In what the Miss Mandaue organization called a historic year for having the first advocacy project spearheaded by its winners, Carballo will be remembered fondly for proposing at least 20 projects to the Miss Mandaue Committee three weeks into her reign.
It was the waste management education drive dubbed as Green Wave that was green-lighted. With her runners-up, Carballo – who saw the need to educate Mandauehanons on waste management after visiting homes and interviewing residents for a school project – spent the next months holding sessions with elementary pupils on proper waste disposal and sanitation.
Carballo also gave credit to her court, saying, "We held hands right after our coronation and we told each other to be the most influential Miss Mandaue court that we could possibly be. And we did it. And I owe a lot of that to our friendship."
She further said that she was having a hard time seeing her reign end, not because of the crown, but because of the friendship, the belongingness, importance, love, and – most importantly – the sense of home that she has found in Mandaue City.
Born in Florida, Carballo and family moved to Cebu when she was 14. She went to PAREF Southcrest for high school, where she took to volleyball, wanted to be in the broadcast team and fell in love with writing and slam poetry.
She then cited the Miss Mandaue chairpersons, Clarence Sanchez and Jonette Alquizola, for always being there for her and the rest in her batch.
"I've made life-long role models out of you. Every single time we have an event, I'll always be so excited to see you because I wanted to tell you what was going on in my life," she said. "Now that that's not really my responsibility anymore, it is a bit difficult."
Carballo then addressed the audience, telling them to respect the new Miss Mandaue the same way they showed her respect.
"Lastly, to Miss Mandaue 2019, our Golden Queen, take the crown but never forget the moral values that come with it," said Carballo, whose successor is 18-year-old athlete, model and incoming Physical Therapy major Lorraine Hann. "Be respectful, be thankful always and have Mandaue City in your heart."
Concluding her almost five-minute speech, Carballo said, "Exactly a year ago, I was crowned Miss Mandaue 2018 and I look forward to the year ahead. After a year of serving Mandaue, from the bottom of my heart and from the deepest depths of my soul, I am looking forward to the future. This is Gabriella Ceniza Carballo, Miss Mandaue 2018, signing off. Thank you Mandaue!"
Carballo is intent on graduating by April 2020 and secure her Nursing license the same year before setting her sights on a national pageant by 2021.