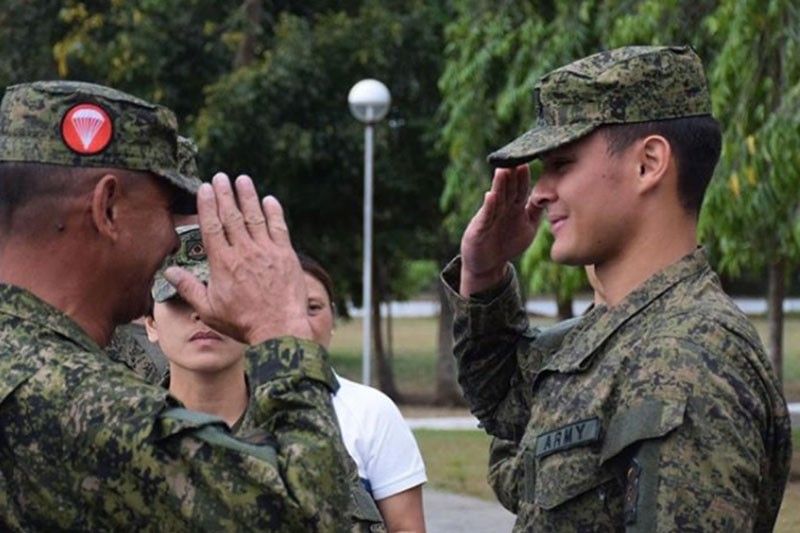 Matteo Guidicelli now an Army reservist
CEBU, Philippines — "Exciting times ahead," was how Cebuano actor Matteo Guidicelli described his enlistment as reservist of the Armed Forces of the Philippines yesterday at the ARESCOM (Army Reserve Command) Headquarters in Tanza, Cavite.
In a post in ARESCOM's Facebook account, it praised Matteo and his friends Ivan Carapeit and Luis Ruiz for their desire to serve the country.
"Three brave souls took oath as reservists of the Armed Forces of the Philippines in Hqs ARESCOM, Tanza, Cavite today (April 15,2019). Matteo Guidicelli, Ivan Carapeit and Luis Ruiz were enlisted as Private whose rank were donned by Major General Bernie Langub, ARESCOM Commander during the flag-raising ceremony," the post said.
"The new reservists will soon be taking trainings in order to prepare them in the event of natural disasters and national emergencies.
Matteo's family members were present to witness the activity.
"The rank is emplaced near their heart because it means only those who have the heart to serve will be fit to wear the uniform. It is beyond the uniform, it is all about willingness to serve the country and being prepared for any eventuality. I congratulate these brave young men for choosing to serve," said Major General Langub.
According to ARESCOM, their unit's main mission is to recruit, motivate, administer, train and equip reservists in the AFP. The unit is open to Filipino citizens willing to serve the country "in the most noble way as members of the reserve component of the AFP."
In an Instagram post, the 29-year-old celebrity athlete said, "I officially joined the Philippine Army today because I love my country. I would like to thank the people that have been very supportive. Exciting times ahead."
Just last month, Matteo – along with celebrities Nico Bolzico and Erwan Heussaff – was also inducted as a Philippine Coast Guard Auxiliary in a ceremony held in Puerto Princesa. That made them volunteers committed to support and promote the "safety of life and property at sea, the protection of the marine environment and its resources, the conduct of maritime search and rescue, the maintenance of aids to navigation, recreational safety and such other activities that enhance maritime community relations."
Last seen on television in the LizQuen-starrer "Bagani," Matteo is currently working on a Viva Films movie that will pair him with Bela Padilla and to be directed by Irene Villamor ("Camp Sawi," "Meet me in St. Gallen," "Sid and Aya: Not a Love Story").
In February, Matteo joined girlfriend Sarah Geronimo in the Viva Artists Agency family after spending 15 years under Star Magic.