Entertainment
Kasley Malaika Libres: Brimming with pageant potential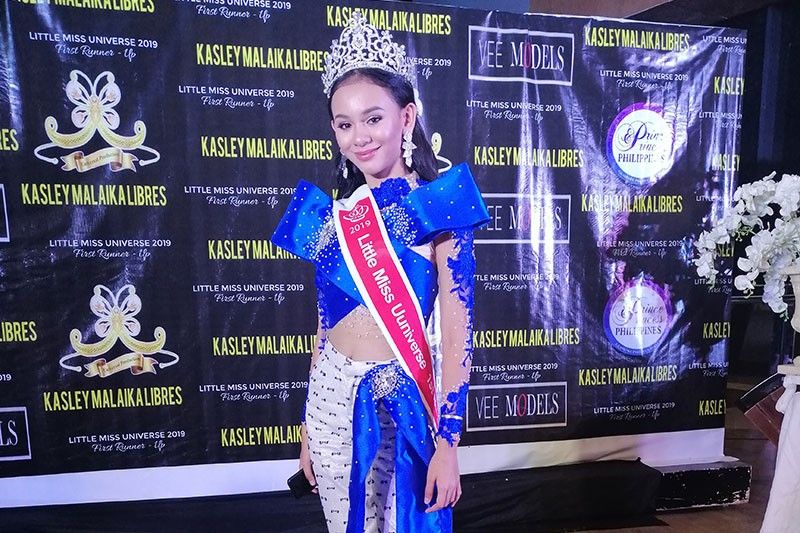 CEBU, Philippines — It was in May when Kasley Malaika "Lyka" T. Libres won first runner-up in her first international pageant, but the memories are still fresh in her heart and mind.
At 12 years old, Lyka already conquered something others might not dare face. The Grade 8 student from Maria Montessori International School aspired to becoming a pageant fixture, and as she forged her story into stone, she's learned a lot after her stint at the Little Miss Universe 2019 competition held in Batumi, Georgia.
"I just want to say thank you. Ever since I was a kid I already dreamed about entering the pageant industry. I am a newbie so I guess I have to go through a lot of things. But I learned one thing: falling down is an accident but staying down is a choice. And I chose to rise up," said Lyka during her recent thanksgiving party at Robinsons Galleria Cebu.
The Consolacion native shared that it was Miss Universe 2015 Pia Alonzo Wurtzbach who inspired her to join pageants. She said they share the same purpose of wanting to inspire others to chase their dreams. But the path wasn't easy, especially for an impressionable 12-year-old entering a world of scrutiny and judgement.
She admitted that being in the spotlight made her a target for mean comments from strangers. Among the most hurtful ones was a post where netizens commented on her Filipina looks versus the mestiza features that her kababayans have long been known to prefer. Lyka already had an idea about the harsh industry of pageantry, but nothing could have prepared her for the actual criticisms.
"I was already told that there are going to be a lot of people who won't appreciate you. I tried to keep my self-esteem solid. I didn't want to be affected," Lyka said.
Still, she was hurt at being compared to "halfie" beauties. She eventually managed to look at the brighter side of things and use the remarks as motivation. She realized that what matters most is one's character, and not the physical beauty.
"This is like practice for me. This isn't the real world yet and I'm about to face the real world. I'm grateful for the critics."
Lyka earned the right to compete abroad after winning Teen Princess of the Philippines in December. She took the next few months to get ready for her international competition. You would think that preparing for about four months would be enough time, but for someone as busy as Lyka, training was another battle altogether.
Lyka is also a multi-medalist, competing in swimming at Palarong Pambansa, Central Visayas Regional Athletic Association (CVIRAA), and Milo Little Olympics. She also competed in pageants during sports meets.
She is a consistent honor student, and represented her school in last year's Division Secondary School Press Conference. To add to her impressive extra-curricular activities, Lyka is also a Model of the World semifinalist at the 2017 World Championship of Performing Arts.
As a K-Pop fan, she likes to sing and dance to her favorite artists' music.
At her young age, Lyka already talks about failure so seriously, saying that she doesn't like it when she isn't able to deliver well. While no one is forcing her to take on so many things at once, Lyka said she juggles all of these activities because she wants to live to the fullest. At the end of the day, the multi-hyphenated lass said that it all boils down to time management.
Lyka couldn't help but be emotional during her victory bash because of her parents' unwavering support, especially as her father was giving his message.
"I always look back to the time where they had to sacrifice a lot. And I'm just thankful and grateful because they've done a lot for me and they never gave up on me," said a teary-eyed Lyka, who not only aspires to dominate pageant stages when she gets a bit older, but to also become a dentist someday.
During her time in Georgia, Lyka endured long days and sleepless nights as she competed with equally beautiful girls from around the world. Despite not being able to win the top crown, she is comforted by the fact that those who matter most will always be proud of her. As she puts it, the title and crown are just bonuses beside the friendships she formed.
Although she plans to focus on her studies for now, pageant followers can expect to see more of Lyka in the future.
For those who want to follow in her footsteps, Lyka said it's all about taking things one at a time.
"Every little step in the right direction can be the biggest steps in your life," she said. "Be humble. If you face hardships, never give up. Because sometimes hardships prepare ordinary people for their extraordinary destiny."Polanco, who is also a songwriter, now values her versatility as an actor who doesn't fit the Hollywood mold, though the early years were nerve-wracking.