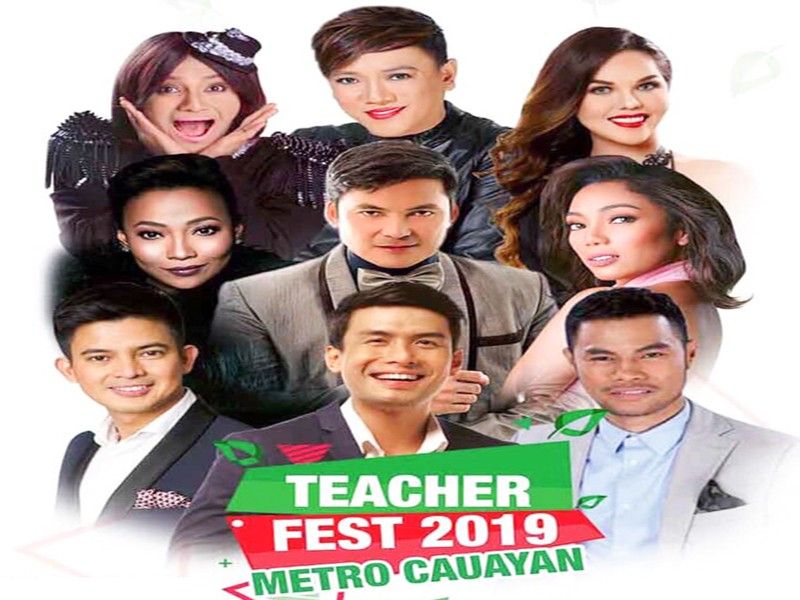 Midway into the year 2019, PLDT Gabay Guro continues to set a new record of achievements as it fulfills its promise of making the Gabay Guro Teacherfest more accessible to the millions of Filipino teachers in the country.
Its latest destination was Metro Cauayan, Isabela where the country's biggest and brightest stars and performers trooped to give the teachers world-class entertainment as Gabay Guro's way of paying tribute to their heroism in teaching and training the youth of the land. The event was spearheaded by the hardworking team of Gabay Guro Chairwoman Ms. Chaye Cabal-Revilla, in cooperation with the local government of the province led by Metro Cauayan Mayor Bernard Dy.
There to lend the biggest thrills to the teachers of Metro Cauayan were Gabby Concepcion, Jaya, Jona, Christian Bautista, Jason Abalos, Bugoy Drilon, comedians Ate Gay, Boobay and Regine Velasquez-impersonator Regina. The event was co-hosted by DZMM anchor Ambet Nabus.
The event gave away exciting prizes to attendees: cash prizes as much as P100,000, mobile phones from Smart and Sun, gift certificates from Penshoppe, two Honda Motorcycles from Mayor Bernard Dy, and ten 32-inch LED TVs from Governor Bodgie Dy, Prepaid Home Wifi packages and HP Printers from PLDT Home, among many others.
Prior to the teachers fest, the hardworking team of PLDT Gabay Guro led by Training Pillar head Deng Kibano, PLDT VP-HR and Learning Development, also brought the Teachers' Treasure Chest training for the teachers of Metro Cauayan.
At the same time, PLDT Gabay Guro launched its partnership with InLife Sheroes, an advocacy to empower Filipino women to take charge of their economic, social, health, and overall well-being and help them become self-reliant and financially independent. Gabay Guro and InLife Sheroes are poised to make things happen for our teachers via forging a deeper partnership in terms of financial literacy trainings, business solutions and opportunities, and teachers' tribute. These financial literacy seminars will offer our teachers knowledge on personal finance, wealth creation and preservation.
Meanwhile, through the InLife Sheroes social and business networks, our teachers will be given access to skills development, mentoring, and B2B financial loans.
In the last couple of years alone, Gabay Guro has organized a similar event for the teachers of Santa Rosa, Laguna, Navotas, Agusan, Bataan, Bulacan, and Davao. After Metro Cauayan, Teacherfest 2019 will be held in Cebu and Ilocos as it gears up for the much-awaited culmination event, the PLDT Gabay Guro Grand Gathering on September 22 at the Mall of Asia Arena.
Ms. Revilla has always said that "it is always our privilege to pay tribute to the teachers through Gabay Guro because we recognize their great contribution to society. Kung wala po kayong mga guro, wala rin po kaming lahat ngayon."
Mayor Dy, for his part, highly commended the volunteers who work tirelessly behind the success of every Gabay Guro endeavor and said that the people of Metro Cauayan will forever be thankful to PLDT Gabay Guro volunteers for their efforts. He emphasized the nobility behind the selfless work of a volunteer.
"I always get shivers whenever I have to give a speech before volunteers. I would know what to say to a crowd of 10,000 but to speak before volunteers, sometimes I am at a loss for words. I have the utmost respect for them," said Mayor Dy.
The PLDT Gabay Guro Foundation is powered by the passion and commitment of volunteers from the management of PLDT and Smart companies led by PLDT Chairman Manny V. Pangilinan. This team of visionaries advocate that "our nation's children depend on our nation's teachers to lead them to the future." Gabay Guro is propelled by these Pillars of Learning: Scholarships, Livelihood Programs, Housing and Educational Facilities, Broadbanding and Computerization, Trainings, Teachers' Tribute and Innovation.
Gabay Guro is now running on its 12th year, carrying with it a history littered with awards and citations. Along with its latest recognition from Aliw Awards, Gabay Guro was also recognized by Gawad Tanglaw, Anvil Awards and from the Philippine Association of National Advertisers (PANA) and the Philippine Quill Awards.
"We believe in what Gabay Guro stands for. We give our all to make our teachers feel special but at the end of the day, we are the ones who feel so much more blessed," Pangilinan said.