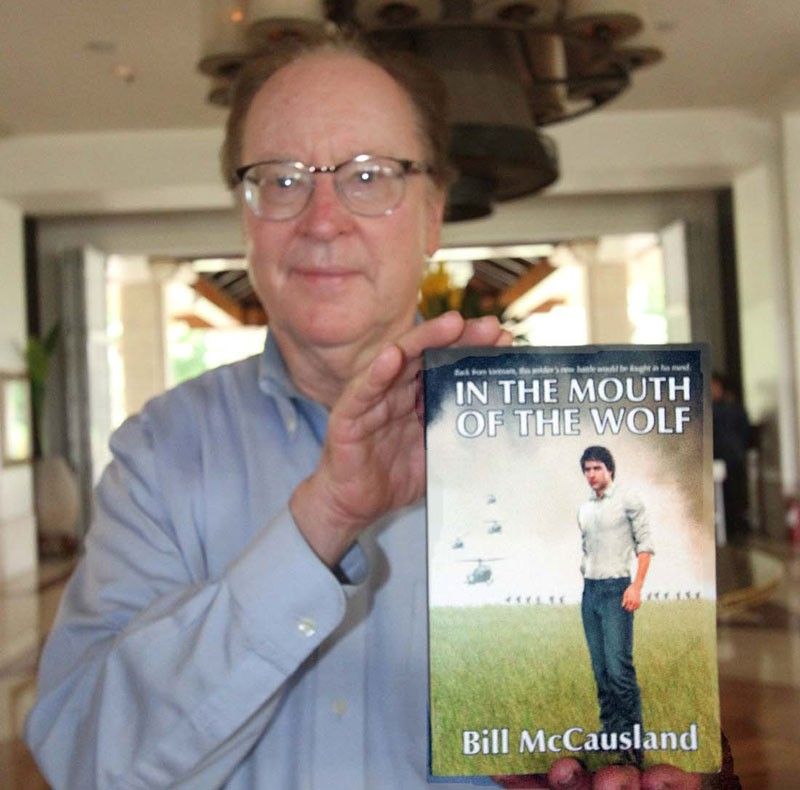 Film adaptation of book on war trauma to shoot in Cebu
CEBU, Philippines — Cebu continues to become a favored film location of late as an upcoming foreign movie, titled "In the Mouth of the Wolf," will be shooting here.
Based on a book by Bill McCausland of the same name, "In the Mouth of the Wolf" centers on three war-time veterans who are trying to get their life back on track following their experiences in the battlefield.
In the book, Memo Muir and his wartime buddies – trauma surgeon Jack and Chet – each face varying degrees of trauma from the Vietnam War. Their wives show different ways of absorbing their misshapen and disturbed spouses' experiences upon their homecoming.
Overall, the novel sheds light on marital relationships and other connections once a soldier returns from war.
A few scenes in Vietnam paint a picture of the reality and the brutality of the war which the main character Memo unfortunately unfailingly revisits time and again in his mind.
Anne Angus serves as line producer, while Maryluz Alaura works as production coordinator. With a screenplay written by Timm Doolen, the scenes portraying the war will most likely be filmed in Cebu.
"We adapted the script from Iraq which has a similar situation. The movie is more psychological, more into dealing with the emotion, the trauma after being in the war zone," director Mike Muschamp said in an interview at Shangri-La's Mactan Resort and Spa.
McCausland is a Vietnam War veteran himself who had a special assignment to work in a joint military- civilian counterinsurgency program. Assigned to the Military Assistance Command, the American author worked with the civilians of the United States Agency for International Development. He also got to work with a colonel in a two-man office at a U.S. Embassy Annex to assist a general who was the special assistant to Ambassador Bill Colby, who later became head of the CIA.
McCausland said that in writing the book, he tapped into his personal experience of how he coped when he returned from war and what happened to his marriage.
"I went all over the country. I never got hurt. I was also careful. I was married for five years but divorced. One day I called my ex-wife and said I was really sorry for screwing up when I got home. She said, 'I know you did.' We both cried over the telephone. She was just wonderful about accepting my apology. 'In the Mouth of the Wolf' was the first one I wrote," McCausland quipped.
While the theme revolves around war, the story of these three men trying to come back to society after the things they've seen and done in war also sheds light on post-traumatic stress disorder (PTSD), an anxiety disorder triggered by very stressful, frightening or distressing events.
People with PTSD may have gone through or witnessed these events, and may relive the traumatic moment through nightmares, flashbacks, and may experience feelings of isolation, irritability and guilt. While others try to manage it daily, others have a harder time going back to how they once were before the trauma.
Getting into writing about 10 years ago, McCausland has a doctorate in clinical psychology after attending graduate school when he returned from Vietnam. The writer took part in a training program of the Veterans Administration at the National Center for PTSD in Palo Alto and practices for PTSD as part of the Kaiser Permanente Medical Group in northern California.
McCausland also has a Masters of Fine Arts in Creative Writing and has published novels apart from "In the Mouth of the Wolf" including "It Came By Loss," "Ruin Quickens," "Motorcycle Escape," "Peace and Love Town" and "Now It's Inescapable."
He grew up near the Mexican border and had travelled to Mexico City many times—references of which appear in "In the Mouth of the Wolf." The title is a translation of the Spanish saying "esta en la boca del lobo," meaning, "You don't stand a chance," which somehow mirrors the journey of the three characters in the book who struggle with their emotions and thoughts.
"But the main character does have a chance at the end of the book. He really resumes himself and does good stuff," McCausland reassured.
Taking on "In the Mouth of the Wolf" was an instant yes for Angus because it aligned with their passion for mental-health awareness. They hope that through the film, they get to spread understanding and support for anyone with mental health problems.
"It's really important for everyone to know what this is all about. Judgement from the outside is also one of the important triggering factors for a person who has PTSD or other conditions. We want everyone to understand that this is something that you can try to manage," Angus said.