Entertainment
Dingdong regrets not having worked with Eddie Garcia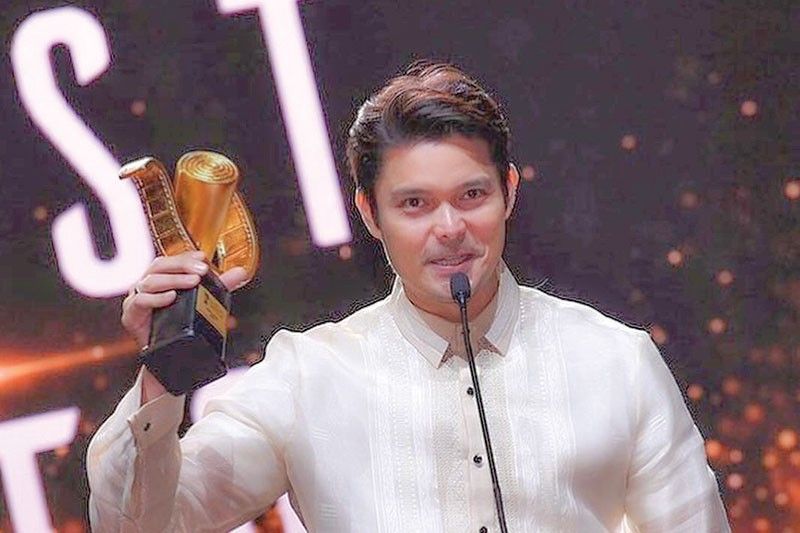 The glow in Dingdong Dantes' face showed how happy he was after winning the Best Actor award at the 3rd Eddys, held Sunday, July 14 at the New Frontier Theatre in Quezon City.
The Kapuso actor won the top plum for his performance in "Sid & Aya: Not A Love Story." Dingdong said to be nominated along with the brilliant actors is like winning an award itself. To actually get the trophy is like a bonus.
"Who wouldn't want to be given such recognition alongside the best actors," said Dingdong.
While he is happy for his victory, Dingdong said he is sad because he didn't the chance to work with Eddie Garcia. "But the people I've worked with or met along the way always told me about the magic they felt every time they work with Mr. Eddie Garcia," he said.
So while Dingdong may not have experienced the Eddie Magic, the stories that people told him is enough to make him feel the veteran actor is very much alive because of the many things he learned about him.
"I think that is one thing that the generation of today and I should emulate. I believe I am still in the process of learning all the time. I've always learned many things from the people I work with. In the end, we won't remember how many movies we have made but the beautiful relationships we built in the process."
Dingdong dedicated his award to Eddie Garcia and said the actor will serve as an inspiration to be good in his work as an actor. He also shared his award to his parents as well as to his wife Marian Rivera and his kids Zia and Ziggy.
He also dedicated his award to the movie-going public and added that he won't get tired doing his work, since he is doing the sacrifice for the audience. He also thanked God for making it possible for him to tell stories through movies.
"I won't let this talent go to waste. And I will always love my work," said the star of GMA-7's upcoming "Descendants of the Sun" remake.
Presented by Cignal TV, the 3rd Eddys will be aired on Colours (Channel 60 SD and Channel 202 HD) on July 21, Sunday at 9 p.m.
* * *
The creative duo behind the critically acclaimed "Ang Babae sa Septic Tank" movies is back with another laugh-out-loud sequel that lampoons the making of a historical biopic, with Eugene Domingo reprising her lead role of a megalomaniacal and egotistical version of herself.
The latest in the popular trilogy – written by Chris Martinez and directed by Marlon Rivera – the seven-episode mockumentary series "Ang Babae sa Septic Tank: The Real Untold Story of Josephine Bracken" documents the step-by-step process in making a biopic. It starts streaming on iWant today.
In this movie within a series, Eugene's character pushes the boundaries of her talents and dares to direct, take on the lead role, and produce her own film about Bracken, a mestiza and Jose Rizal's well-known paramour.
As a first-time director, Direk Uge goes overboard with every aspect of the film, interfering with the costume design, screenplay, musical score, editing, and almost everything else, causing turmoil on set.
In the series, Eugene is joined by other artists who gamely act as "versions" of their actual selves, including Tony Labrusca, who plays as himself and as the hunkiest Jose Rizal ever.
Mylene Dizon and Joanna Ampil also play themselves and Jose Rizal's sisters Narcisa and Saturnina, providing tension and sass as they compete for their lady director's attention and approval.
Award-winning director and writer Jose Javier Reyes, meanwhile, portrays himself and as Direk Uge's screenwriter who becomes her unwilling partner-in-crime.
To provide the anchor on historical facts, renowned Filipino historian Ambeth Ocampo goes onboard to ground viewers on the true stories and shocking trivia surrounding the historical characters.
"In this era of fakery, fake news, and faking history, 'Ang Babae Sa Septic Tank 3: The Real Untold Story of Josephine Bracken' is easily the funniest, most relevant, and most entertaining series you can find on iWant and elsewhere," said Martinez.
Before the seven-episode series drops on iWant, users can watch the first two "Ang Babae sa Septic Tank" movies for free on the streaming service.
Stream "Ang Babae sa Septic Tank 3," produced by Quantum Films and Dreamscape Digital, starting today on the iWant app (iOs and Android) or on iwant.ph. For updates, like www.facebook.com/iWant, and follow @iwant on Twitter and @iwantofficial and @dreamscapedigital on Instagram, and subscribe to www.youtube.com/iWantPH.