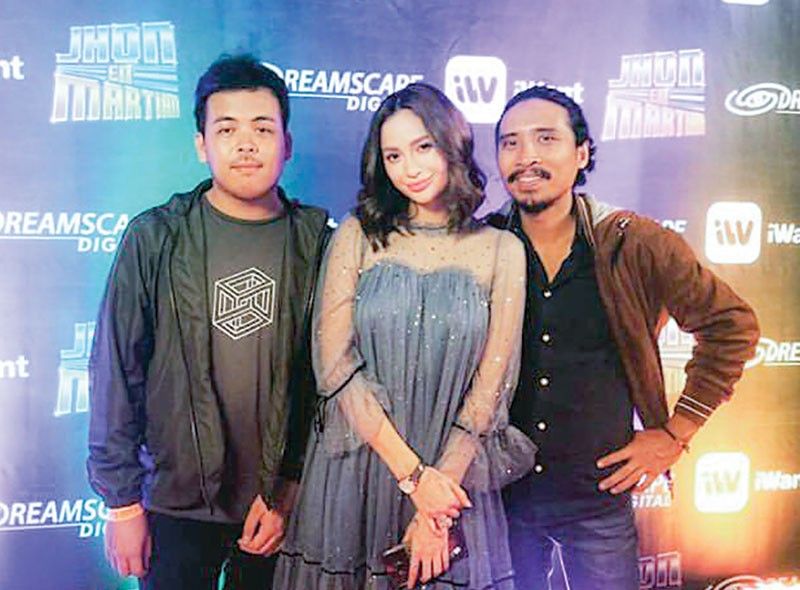 Cebuano director Victor Villanueva's campy sci-fi series debuts today
CEBU, Philippines — Two misfits in search for a better life find belongingness and maybe love in the new iWant original "Jhon En Martian."
Starring Pepe Herrera and Arci Muñoz, the "intergalactic rom-com" promises to take audiences to a fun-filled romantic trip across the galaxy.
The show's tone is right up the alley of Cebuano filmmaker Victor Villanueva, who feels ecstatic that he was chosen to bring to life the quirky tale between an alien and an earthling trying to take hold of their own destiny.
"I really enjoyed working on 'Jhon En Martian' because it's my thing – ang pagka-absurd, weird at irreverent. It was also my first time on a cinematic series format," said Villanueva.
Among Villanueva's challenges was to adapt to a structure that utilizes cliffhangers which is more complicated to execute than a straightforward film.
Apart from story continuity, he also became more conscious in mounting VFX shots, knowing that they will have to use more of their imagination, as they envision a scene with special effects aside from capturing what is currently right in front of them on set.
The five-episode series centers on 223 (Arci) and Jhon (Pepe), both escaping unfortunate fates and meeting each other on the way. 223 is a Martian princess fled from her planet to get herself out of an arranged marriage. Jhon is a kind and hardworking delivery guy already on his last courier errand before he flies to Malaysia, where he intends to start anew.
But the two meet and things don't go as planned. Jhon ends up missing his flight to help 223 find her missing spaceship with the intention of saying goodbye at the end of the task. Things aren't that easy, and they learn to find love along the way. As if their differences aren't enough, things get shaky at the intervention of Queen 222 (Rufa Mae Quinto), the Queen Mother of the Royal Empire of Mars.
"I love them! They're always so fun to be with and very collaborative. Pepe would suggest lines or gags, and Arci has impeccable comic timing – ganda na, funny pa! Na-intimidate ako sa kanila at first kasi such talented people," Villanueva said.
The director, acclaimed for the Cebuano blockbuster film "Patay Na Si Hesus," added that the series is somehow an attempt at a Western-like production.
Asked if he felt pressured to mount special effects like that of Hollywood, he admitted that they were concerned at first.
"It was a worry at first. But I'm not going to declare that this is the benchmark for Pinoy VFX. My aim is really campy sci-fi. There's a bit of polish into the VFX, but I still want it to feel fun and absurd but ultimately kitschy which adds to the overall charm. Gituyo ang pagka-kiningkoy. So I'm not concerned because the tone is campy from the get-go and I'm sure the audience will feel it too."
He said if viewers are looking for something fun outside of the usual TV offerings, "Jhon En Martian" could be their cup of tea.
"People should check it out if they want to relax and see something na kabuang, but stay tuned for the 'feels' ending. This is also not aired on TV, so we were able to get away with jokes and gags normally not allowed on TV. If this works well, expect more polished Pinoy series that explore other stories from the usual things we see on TV," he quipped.
Dropping on iWant today, "Jhon En Martian" was created by Joma Labayen and co-produced by Dreamscape Digital, Quantum Films, and Project 8 Corner San Joaquin Projects.
It also stars Mon Confiado, Jojo Alejar, Aiko Climaco, Jelson Bay, Joel Saracho, Ge Villamil, Dolly De Leon, TJ Valderama, Emman Nimedez, Kedebon Colim, and GB Labrador.
With the Philippines joining the digital field of cinema, more creators have the platform to put up content online in an environment that is essentially free for all.
As a young filmmaker who began in the indie scene and is part of a generation that's well-versed in the digital world, the "Kusina Kings" director gave his two cents on the whole "streaming is killing cinema" debate.
"There's definitely a shift and streaming is really the way to go. I think studios are still figuring out this uncharted territory. I wouldn't say it would totally kill cinema because it's still priceless watching on a big screen with other strangers," the University of San Carlos graduate pointed out.
"But with online platforms, there's more leeway to experiment on narratives that are deemed too risky for television or a movie house, and can easily reach its audience. I'm terrified and also excited to go on this journey of content creation."
Currently keeping busy with branded content and commercials, Villanueva will next veer away from his comfort zone of comedy via his Cinema One Originals entry, "Lucid."
"It's romance, thriller, suspense ang dating. Bleak na bleak, dili comedy! I want to challenge myself in trying out other genres."