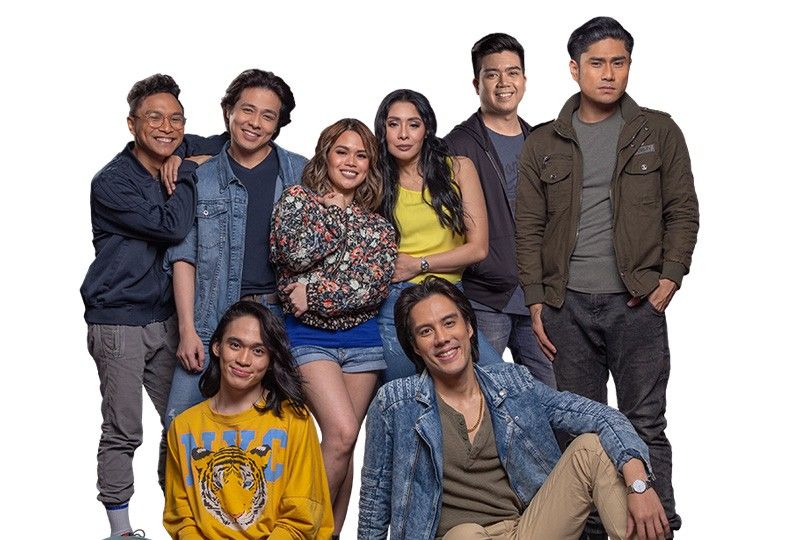 'Ang Huling El Bimbo' dances again
CEBU, Philippines — It's still not the last dance for "Ang Huling El Bimbo" as the hit musical returns not once but over 50 times more at the Newport Performing Arts Theater of Resorts World Manila (RWM) beginning tomorrow, March 1.
Due to popular demand, RWM decided to bring back the much beloved musical which features Eraserheads' biggest songs. Supposedly eyed for 20 shows, "Ang Huling El Bimbo" graced the stage 33 times last year for six weeks to standing ovations and sold-out tickets night after night.
This year, in line with RWM's tenth anniversary celebrations, "Ang Huling El Bimbo" will be doing 55 shows from March 1 until mid-May, with six shows a week.
"Ang Huling El Bimbo" is a tale of friendship told through the songs of the 90's most iconic Pinoy rock band, Eraserheads. Produced by Fullhouse Theater Company and RWM, "Ang Huling El Bimbo" centers on a trio of college buddies. After 20 years since their college graduation, Hector, Anthony, and Emman unexpectedly cross paths in an unlikely reunion. The story unfolds in a series of flashbacks portrayed by their younger selves: from their first meeting, how they grew into a quartet as Joy enters the picture, up until the day they parted ways and how those memories catch up on them two decades later.
Written by Dingdong Novenario and directed by Dexter Santos, "Ang Huling El Bimbo" promises to resonate with audiences, especially those who have witnessed the powerful bond of friendship and its ability to shape our lives, made all the better and more nostalgic because of songs and music that have become a huge part of the Filipino sensibility.
In an interview with Chief Integrated Marketing Officer Martin Paz during RWM's 10th anniversary road show press conference at Seda Hotel Cebu, he said RWM will present an upgraded version of "Ang Huling El Bimbo." The restaging will see a more streamlined storytelling, and new cast members as they add more shows.
"Ang storya, mas magiging tighter. It's not your usual musical. I think that's one of the reasons kung bakit siya pumatok," said Paz. "When you look at a musical, usually may kantahan, sayawan…this one is merong konting pagka-tragic. So medyo makatotohanan, nasha-shock ng konti yung tao kapag napapanood. What I can say is some of the characters, mas dinevelop. It's the same, about 80 percent of what was, but mas improved yung 20."
Gian Magdangal, OJ Mariano, Jon Santos, Reb Atadero, Boo Gabunada, Bibo Reyes, Tanya Manalang and Menchu Lauchengco-Yulo (who is also the associate director) will be reprising their roles, while new cast members Nicco Manalo, Lance Reblando, David Ezra, Phi Palmos, Myke Salomon, Rafa Siguion-Reyna, Gabriella Pangilinan and Carla Guevara-Laforteza make up the second set of cast members who will add their own spin to the characters.
Audiences can expect a fresh run and new twists with musical director Myke Salomon, artistic director Michael Williams, costume designer Marlon Rivera and his team. Writer-director Floy Quintos will also join the restaging.
Paz said that "Ang Huling El Bimbo" is their most successful production yet, and they give the credit to the Filipino talent that has their hands all over the piece. RWM also takes delight in the band's reaction to the production's take on their music.
"I hate it. Pina-iyak ako eh," Eraserheads frontman Ely Buendia once said in a 2018 MYXclusive interview following his attendance at an opening gala. "No, but seriously I think it's a testament to the creative ability of the performers, the writers, the staff, everyone. From the lighting, sets, to the music – spot-on. I was on the edge of my seat basically not just storywise but also kung paano kaya nila gagamitin 'tong song na 'to. It was really, really a very fun experience."
Paz added: "For this one, it looks like every year meron kaming version na mangyayari. We're very proud of the Filipino talent. This one is all original, yung lyrics ng song din ang lines nila so it has to make sense."
Paz hinted that they plan to do more Pinoy-centric shows. While there's nothing wrong with presenting touring groups who rent the theatre to stage classics like "The Sound of Music," "The King and I" and "Wicked", among many others, Paz said that it is RWM's priority to dedicate their stage to Filipino talent as well.
"Napakarami pa in the pipeline, like 'Annie Batumbakal' and all that. Pinag-aaralan pa namin. We want to do an original again. It's definitely Filipino."
Special show promotions are available to Resorts World Manila members through the RWM Mobile App which is available for free download via the AppStore or GooglePlay. Guests who are 21 years old and above may avail of free RWM membership to qualify for RWM Mobile App promotions.
Tickets to "Ang Huling El Bimbo" are available at Ticket World (www.ticketworld.com.ph) and the RWM Box Office at GF Newport Mall, Resorts World Manila. Call the Tourist/Visitor Hotline at (02)908-8833 for inquiries.