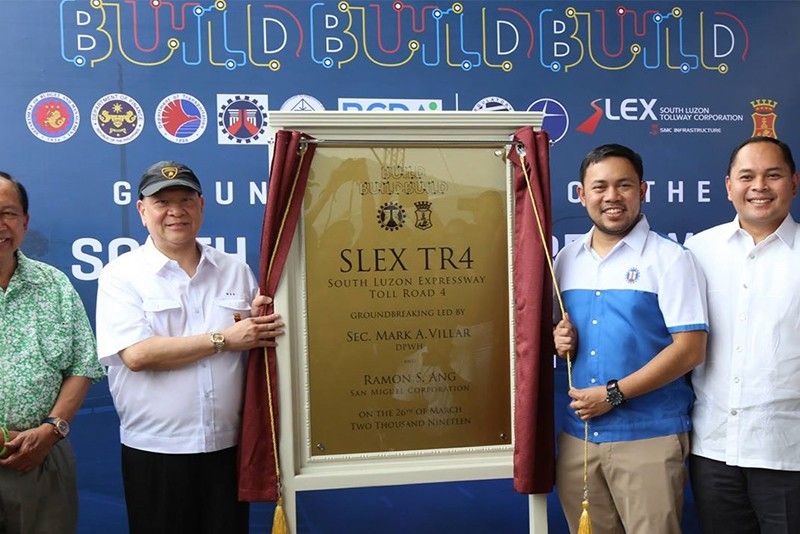 Works on SLEX extension start
MANILA, Philippines — Construction on the P13.1-billion South Luzon Expressway Toll Road 4 (SLEX TR4) officially began Tuesday, March 26, with the project seen reducing travel time to and from the provinces south of Metro Manila by as much as three hours.
Department of Public Works and Highways Secretary Mark Villar and San Miguel Corp. President Ramon Ang led the groundbreaking ceremony of the toll road project which covers the 66.74-kilometer extension of SLEX from Sto. Tomas, Batangas to Lucena City, Quezon Province.
"In 36 months, I am confident we will be back to inaugurate the finished expressway," Ang was quoted as saying in a press release from the DPWH. South Luzon Tollway Corp., or SLTC, is a unit of SMC.
"We estimate that 17,000 vehicles will pass through the toll road every day," he added.
By providing a shorter travel time, SMC said the project is expected to boost economic activity through the faster transport and delivery of goods and services, and reduce vehicle volume along the busy Maharlika Highway, which is one of the main roads leading to the provinces of Laguna, Batangas, Quezon and the Bicol region.
The toll road will be divided into six sections, namely: Sto. Tomas, Batangas to Makban in Laguna (11.32 km); Makban to San Pablo City (12.75 km); San Pablo to Tiaong in Quezon (7.5 km), Tiaong to Candelaria (15 km); Candelaria to Tayabas (10.21 km) and Tayabas to Lucena (9.96 km). — Ian Nicolas Cigaral