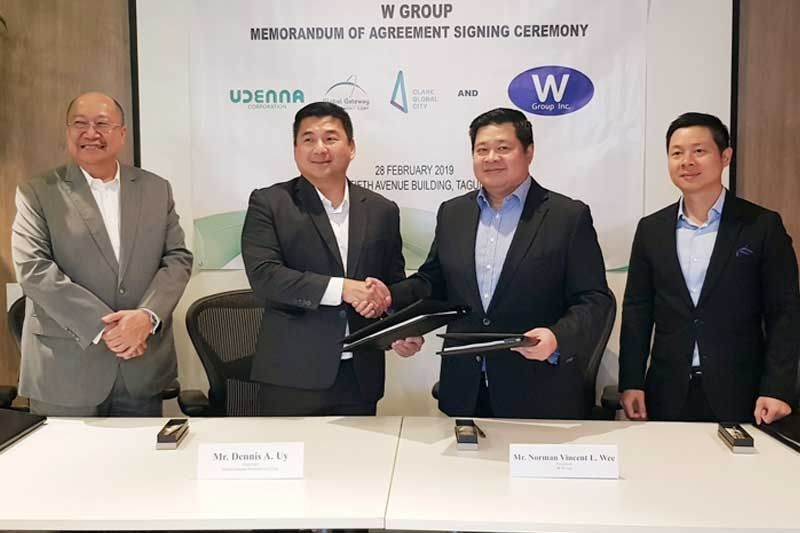 W Group joins Dennis Uy firm in Clark Global City development
MANILA, Philippines — The W Group Inc. has joined Dennis Uy's Clark Global City, a sprawling development in Clark, Pampanga that is touted to become the newest business district in Luzon.
Uy's Global Gateway Development Corp. (GGDC) signed a memorandum of agreement with the W Group to develop a 21,918-square meter lot in Clark Global City.
This will mark the real estate company's first foray outside the Bonifacio Global City where the group has six projects, namely W City Center, W Fifth Avenue, W Global Center, W High Street, Citibank Plaza by WBGC and the W Tower.
The W Group, through its designated subsidiary, affiliate, and partners, shall construct a mixed-use development, with a time-bound option to sublease an additional 14,065-square meter lot.
"We are honored to welcome W Group, Inc. as another key addition to the trusted names that will transform CGC as the next prime business district in Luzon," Uy said.
Uy said the W Group's expertise in developing office buildings that demonstrate optimum functionality without sacrificing fine taste for visual appeal aligns with CGC's goal of reinventing spaces that fuel productivity and offer work-life balance.
As part of the agreement, the W Group will develop a mix of office and commercial spaces.
W Group president Norman Vincent Wee said the time is ripe to venture into other areas especially when land is becoming scarce.
"We have bright prospects for Clark. We believe it is the next big metropolis and we are looking forward to bringing our expertise of building state-of-the-art office and commercial spaces that inspire creativity and productivity," Wee said.
Similar to BGC, Clark Global City is a former military base currently being transformed into the country's next big metropolis and primed as the answer to Metro Manila's congestion.
W Group is banking on the growth of Central Luzon, which has historically been the third largest contributor to the country's GDP growth.
Clark Global City has a buildable area of 109 hectares, host top-grade office buildings, up-market retail outlets, contemporary academic centers, sports centers, an urban park, an iconic tower, an integrated resort and casino, and modern support services and amenities.
CGC was previously envisioned as an aviation-focused logistics park exclusively developed by GGDC.
When the Udenna Group took over in 2017, it renewed its lease agreement over the estate to run until 2085 and amended the masterplan with a vision of developing the area as the next central business district in the country.