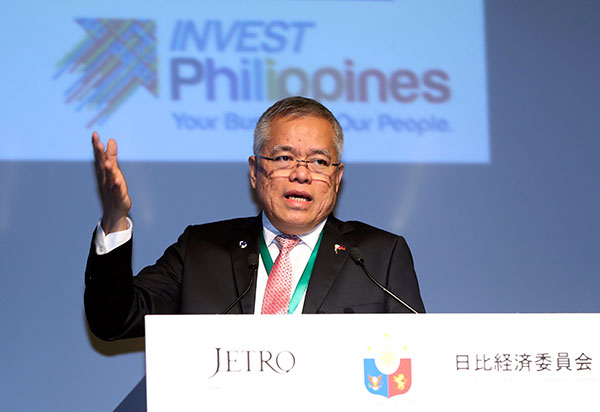 Trade chief Lopez puzzled by VACC plunder complaint
MANILA, Philippines — "I don't know where they are coming from."
Trade Secretary Ramon Lopez is puzzled by the plunder and criminal raps filed by the Volunteers against Crime and Corruption against him and Hyundai executives over an allegedly anomalous grant of P1.1 billion in tax incentives.
On Thursday, the VACC accused Lopez and 10 officials of Hyundai Motor Company and Hyundai Asia Resources Inc. (HARI) of committing plunder, technical smuggling and estafa (fraud). The VACC alleged that Lopez gave "preferential and favorable treatment" to HARI, over their non-qualification to the government's Motor Vehicle Development Program.
Lopez, in a text message to reporters, said: "[That] should not be the case. We [Board of Investment] were the ones who investigated and suspended their MDVP license. And asked for the collection of what's due to government."
The complaint stemmed from the acceptance of HARI under the government's MVDP, on Sept. 28, 2016, that granted them "preferential tariff rate of one 1 percent in the importation of completely knocked-down (CKD) units, its parts and components."
But upon inspection made by the BOI on Feb. 7, 2017, it was found that the company does not meet the "basic assembly processes," one of the standards for the MDVP.
The BOI then cancelled HARI's registration in the program and ordered the company to return the tax break in the amount of P1,102,387,971.19.
The VACC, however, insisted that Lopez gave "preferential and favorable treatment" when it caused "inordinate delay" in resolving HARI's motion for reconsideration.
This, despite BOI denying HARI's appeal on Jan. 3, 2018.
The Board affirmed its earlier ruling and asserted that HARI owes the government P1.1 billion—a fact noted by the VACC in its complaint.
VACC: Hyundai had 'luxury of time'
But the VACC said that Lopez committed plunder as he gave the "luxury of time" to HARI in complying with the terms and conditions of MDVP.
"This unmistakably shows that respondents colluded to another to avail and enjoy certain fiscal benefits, in the form of preferential tax rates and customs duties, to the detriment and prejudice of the Republic of the Philippines, thereby warranting that they be prosecuted for plunder," the complaint read.