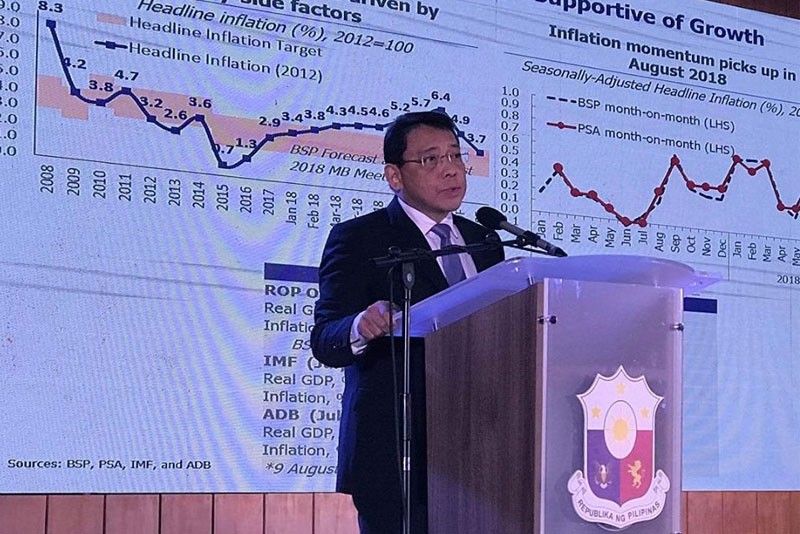 Term deposit volume trimmed ahead of tax season
MANILA, Philippines — The Bangko Sentral ng Pilipinas (BSP) has slashed the volume of one of its liquidity absorption facility ahead of the tax payment season as well as the Holy Week.
BSP Deputy Governor Diwa Guinigundo said the volume of the term deposit auction facility (TDF) was reduced to P30 billion next Wednesday from the previous volume of P50 billion.
The BSP auction committee decided to retain the volume of the seven-day tenor at P20 billion and cut by half the size of the 14-day term deposits to P10 billion.
Likewise, the central bank decided not to auction the 28-day term deposits next Wednesday.
Guinigundo said the auction committee believes there is less excess liquidity to mop up from the system due to the deadline of the payment of income tax on April 15.
"TDF is market based. So if you think that there is less to mop up, you need to do the corresponding adjustment," Guinigundo said.
He said there is strong demand for cash due to the tax season as well as long holidays due to the Holy Week next month.
"So remember that if the clients of the banks have alternative uses instead of just depositing with the banks, and the banks in turn deposit it with the BSP. Then we will have to adjust the volume of offering," he said.
The liquidity absorption facility was oversubscribed last Wednesday as bids tendered by banks reached P65.53 billion versus the issue size of P50 billion.
Tenders for the seven-day tenor reached P27.25 billion, while bids for the 14-day term deposits amounted to P22.2 billion. The auction committee made a full award of P20 billion for the seven-day tenor and P20 billion for the 14-day term deposits.
Likewise, bids for the 28-day debt instrument reached P16.08 billion, exceeding the issue size of P10 billion.
The Bureau of the Treasury successfully raised P235 billion worth of five-year retail treasury bonds.
Term deposit rates were mixed as the yield of the seven-day term deposits eased 4.11 basis points to 4.9803 percent from 5.0214 percent. The last time the instrument fetched a yield below five percent at 4.9420 percent was on Nov. 28.
Likewise, the 28-day tenor fetched a lower rate of 5.0987 percent from 5.1758 last March 6.
On the other hand, the yield of the 14-day term deposits inched up 1.04 basis points to 5.1079 percent yesterday from 5.0975 percent last week.