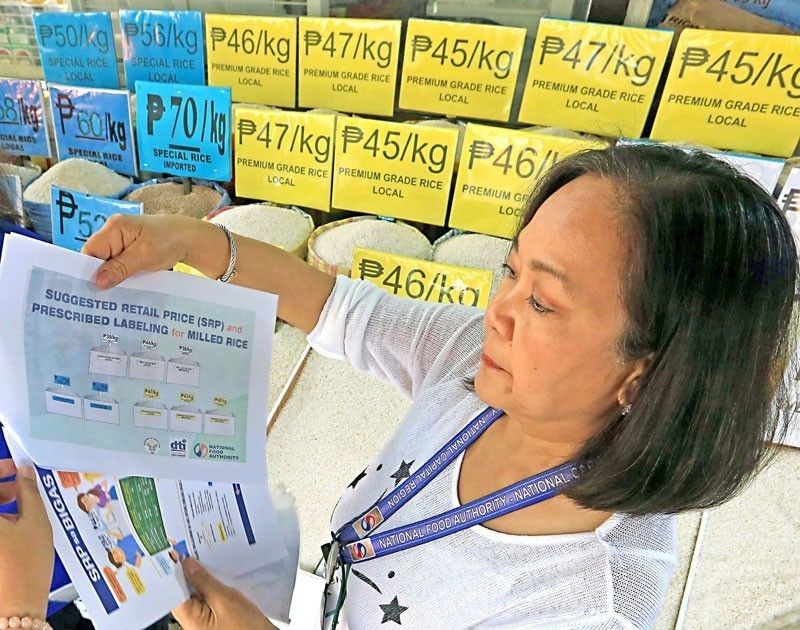 MANILA, Philippines — The price of rice remained on the downtrend, with consumers saving more but farmers earning less following a new rice regime in the country.
Latest data from the Philippine Statistics Authority (PSA) showed consistent lower prices for more than three months now after the Philippines opened its rice industry to more private sector imports.
In its regular update on palay, rice and corn prices, PSA said the average wholesale price of well-milled rice is now at P39.30 per kilogram as of end-June, six percent lower than the P41.58 per kilo level from the same period a year ago and 0.1 percent lower on a weekly basis.
Its average retail price also decreased 3.3 percent to P42.92 per kilo.
Meanwhile, the wholesale price of regular-milled rice was P35.39 per kilo, down 7.4 percent while its average retail price was P38.56 a kilo.
While consumers are benefitting from the opening up of the market, local farmers are suffering from declining palay farm gate prices.
The average farm gate price of palay continued to decrease to P17.85 per kilo.
In all, the current price is a 17 percent drop from the P21.38 per kilo last year when the rice liberalization has yet to become a law.
It is also lower than the P19.40 per kilo last March when the law took effect.
The lower farm gate price is caused by the increased local harvest and is exacerbated by imports flooding the commercial market.
Total rice inventory as of May stood at 2.94 million metric tons (MT), 1.3 percent higher than last year's volume stock of 2.91 million MT.
This is also 12.2 percent up from the previous month's volume stock of 2.63 million MT.
Under the rice tariffication law, quantitative restrictions on rice importation are lifted and private traders are allowed to import the commodity from countries of their choice.
The rice tariffication law replaced the government's quantitative restrictions on importation of the staple with a 35 percent tariff.
The measure also created the Rice Competitiveness Enhancement Fund or a special rice buffer fund, with an initial P10-billion annual fund, to ensure rice production competitiveness.