Business
Philippines signs 10 business deals with Russia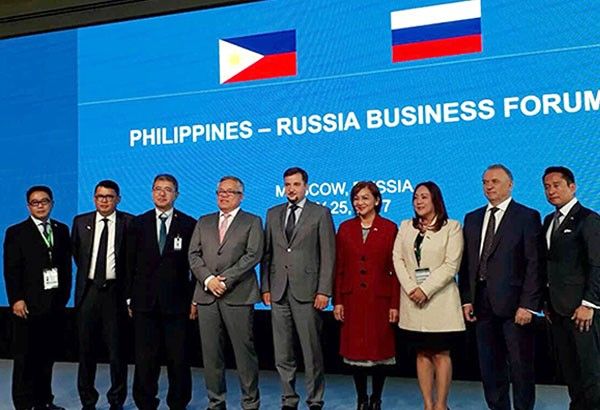 MANILA, Philippines — The Philippines and Russia signed 10 business agreements during a trade and investment forum held in Moscow, the Department of Trade and Industry (DTI) said.
In a statement, the DTI said the agreements covered two distributorship agreements, five memoranda of understanding (MOU), and two memoranda of intent and a memorandum of agreement.
The trade forum was attended by over 400 business delegates from various industries including food, automobile, healthcare, manufacturing and power.
Among the agreements signed is the MOA between Immunitas Holistic Consultants Inc. and Institute of Practical Psychophysics for promotion, distribution, and sale of IPP-NLS technologies including Metatron Micro MRI Systems and its variations.
Meanwhile, Lifetruck International Inc. signed exclusive distributorship agreements with Volmax Group Ltd. and KAMAZ FTC Inc. for the distribution, promotion, and sale of Sturmanskie watches and Kamaz vehicles, respectively.
As for Century Pacific Food Inc., it signed three MOUs with Magnit Food Retail Chain LL, Dalpromryba, and Dalimo, to make Philippine tuna and sardine products available to the Russian market. These deals will bring the number of companies from the Philippines which provide seafood and marine products to Russia to five.
An MOU was also inked by Century Pacific Agricultural Ventures Inc. and Panasia Impex Co. Ltd. for the supply of coconut milk to Russia.
To promote trade and investments between the two countries, the DTI and the Russian-ASEAN (Association of Southeast Asian Nations) Business Council entered into a cooperation deal for the exchange of information and collaboration on activities.
The DTI likewise inked a memorandum of intent with the Association of Industrial Parks of Russia to work together to encourage foreign investments to both countries.
A memorandum of intent was also signed by the Department of Energy and Rusatom Overseas to pursue cooperation in the energy sector.
"There is huge potential in expanding trade and investments cooperation between our two countries since the markets have not been really maximized in the past. This is just the beginning of what we see as a source of further market growth for our two economies," Trade Secretary Ramon Lopez said.
Total bilateral trade between the Philippines and Russia reached $1.36 billion last year.
Philippine exports to Russia amounted to $86 million last year, up from $69.5 million in 2017, and included wiring sets for vehicles, aircraft, and ships; semiconductor devices and desiccated coconuts.