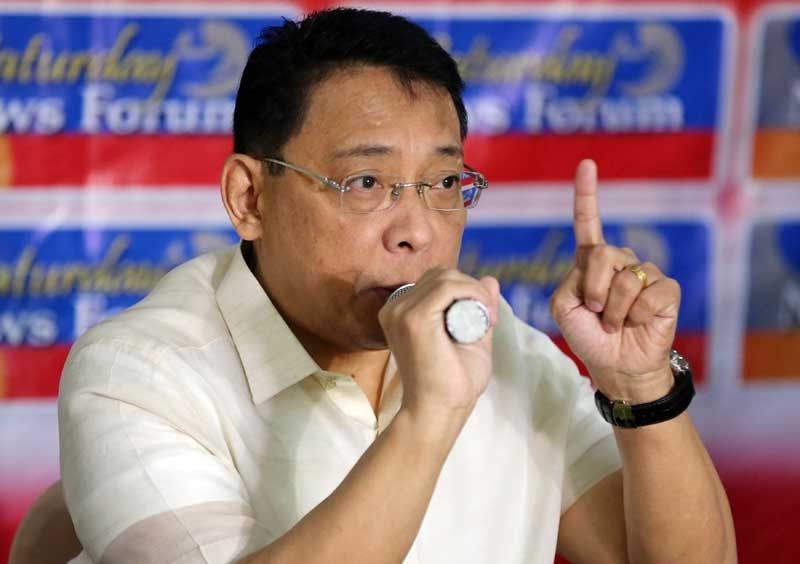 Philippines incurs record $7.9 B current account deficit in 2018
MANILA, Philippines — The Philippines incurred a record current account (CA) deficit last year due to a wider trade deficit as a result of the massive infrastructure buildup being undertaken by the Duterte administration, the Bangko Sentral ng Pilipinas (BSP) reported yesterday.
In a press conference, BSP Deputy Governor Diwa Guinigundo said the country's current account deficit reached $7.9 billion or 2.4 of gross domestic product last year, almost four times the $2.1 billion shortfall or 0.7 percent of GDP in 2017.
Guinigundo said the shortfall was the highest on record since the $4.4 billion current account deficit or 5.1 percent of gross domestic product recorded during the height of the Asian financial crisis in 1997.
The figure also exceeded the central bank's full-year deficit target of $6.4 billion or 1.9 percent of GDP.
The current account position measures the net transfer of real resources between the domestic economy and the rest of the world. It consists of transactions in goods, services as well as primary and secondary income.
Redentor Paolo Alegre, head of the BSP's Department of Economic Statistics (DES), said the wider current account shortfall was due to the widening deficit in the trade-in-goods account which more than offset the higher net receipts posted in the trade-in-services, and primary and secondary income accounts.
Alegre said the trade-in-goods deficit for 2018 rose by nearly 22 percent to $49 billion, reflective of the 9.4 percent expansion in imports of goods and the 0.3 percent decline in exports of goods.
Exports of goods dropped to $51.7 billion from $51.8 billion, while imports expanded to $100.7 billion from $92 billion. Net receipts in the trade-in-services account aggregated $10.5 billion in 2018, 20.7 percent higher than the $8.7 billion net receipts posted in 2017.
Alegre said primary income account posted net receipts of $3.8 billion, 19.2 percent higher than the $3.2 billion, while net receipts in the secondary income account registered a 2.6 percent growth to $26.8 billion due to the 2.8 percent increase in remittances of non-resident overseas Filipino workers.
The capital account recorded lower net receipts of $65 million, while the financial account more than doubled its net inflows to $7.8 billion.
Alegre said net inflows of direct investments amounted to $5.9 billion in 2018, lower by 15.8 percent than the $7 billion net inflows recorded in 2017 due mainly to the 4.4 percent decline in foreign direct investments.
Likewise, net outflows of portfolio investments fell by 65 percent to $858 million from $2.5 billion due mainly from the reversal of foreign portfolio investments.
Alegre said the current account deficit may not necessarily be detrimental to the country.
"It should be evaluated based on its underlying factors. The recent CA deficit reflects an underlying trend, an excess of investments over savings, and point to high productive, and growing economy," Alegre said.
Guinigundo said the fractional decline in exports, the slowdown in import growth, and higher remittance growth in January point to a stronger external payment position this year.
"We can see some improvement in the current account position and CA to GDP ratio," Guinigundo said.
"Again this is going to be a good indicator, that means the buffer for CA will be stronger than what they were in 2018," Guinigundo said.
For 2019, the BSP sees a wider current account deficit of $8.4 billion or -2.3 percent of GDP.