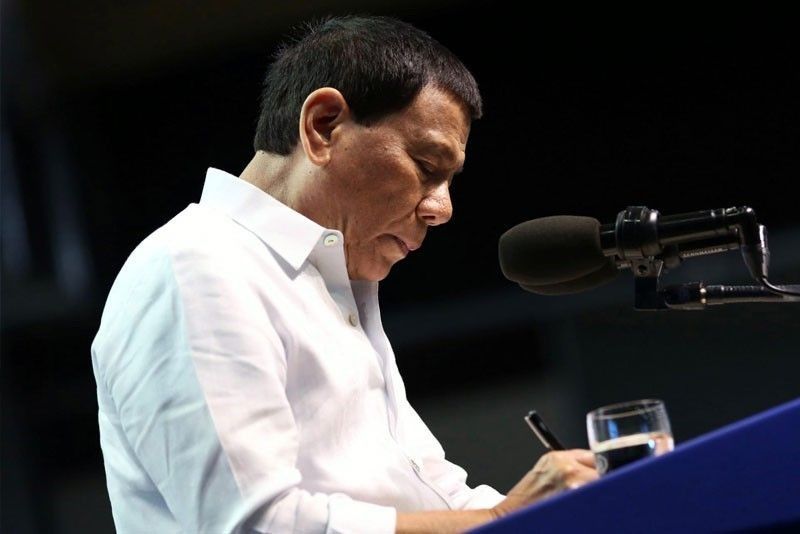 Palace: Vetoed P95-B budget items 'violated Constitution'
MANILA, Philippines — Malacañang said Tuesday President Rodrigo Duterte decided to veto about P95.3 billion in appropriations when he finally signed the 2019 national budget as the quashed items violated the Constitution.
The Palace announced Monday that the four-month delayed P3.757-trillion spending plan was enacted into law, less than a week after Duterte threatened to veto the entire national budget amid reported irregular fund realignments.
At a press conference, presidential spokesman Salvador Panelo said the vetoed provisions in the national budget were "insertions" and "riders" made by lawmakers.
"They are not part of the program by the [Department of Public Works and Highways]. Hence, it violates the Constitution," Panelo said.
"The message is always, 'You follow the Constitution.' Any deviation from the Constitution will not be approved by the president or will not be tolerated," Panelo added.
Asked if the Palace qualified the rejected appropriations as "pork barrel" funds, Panelo replied: "They're in violation of the Constitution — whether you call it pork."
Pork barrel, or the Priority Development Assistance Fund, was declared unconstitutional by the Supreme Court in 2013 after it was discovered that billions of discretionary government funds were channeled to fictitious non-government organizations.
Senate President Vicente Sotto III last month said he would not sign the enrolled copy of the spending bill unless the House of Representatives withdraws all the changes it made amounting to over P95 billion into an already ratified budget. Sotto later greenlighted the measure but with "strong reservations."
The squabble in Congress delayed the approval of the new budget, forcing the national government to operate on a reenacted budget — the first time in nine years.
The inter-agency Development Budget Coordination Committee last month cut its 2019 gross domestic product growth projection to 6%-7% from 7%-8% percent originally as new projects were unfunded due to the budget deadlock. — Ian Nicolas Cigaral