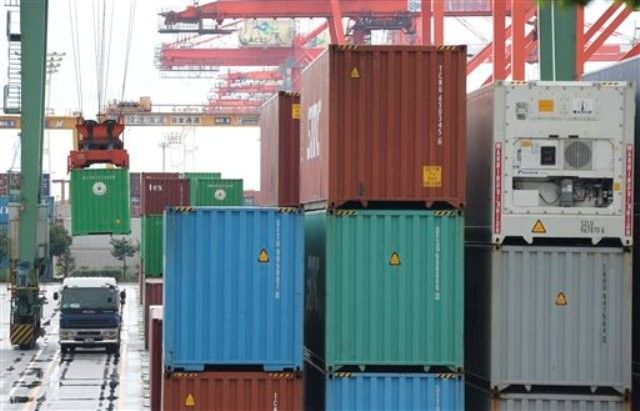 No respite from ballooning trade gap, say economists
MANILA, Philippines — Economists see no respite from the swelling trade deficit hitting record levels over the next two years amid soft global export market and rising imports of capital equipment and raw materials to support the growing economy.
Lindsey Ice, economist at Barcelona-based think tank Focus Economics, said the trade gap may widen to $42 billion this year and to $51 billion for 2020.
Latest data from the Philippine Statistics Authority (PSA) showed the country's trade deficit swelled by more than 51 percent to a new all-time high of $41.44 billion last year from $27.38 billion in 2017.
Imports went up by 13.4 percent to $108.93 billion last year from $96.09 billion in 2017, while exports slipped 1.8 percent to $67.49 billion from $68.71 billion.
The country's trade deficit has been steadily widening over the past few years from only $3.3 billion in 2014, $12.2
billion in 2015, $26.7 billion in 2016, $27.38 billion in 2017, and $41.44 billion in 2018.
For December alone, the country's trade gap narrowed by 5.5 percent to $3.75 billion from $3.97 billion in the same period last year.
Exports booked a double-digit decline of 12.3 percent to $4.72 billion from $5.38 billion, while imports recorded a lower decline of 9.5 percent to $8.47 billion from $9.36 billion.
"December's results signal increasing headwinds for the external sector moving into 2019, as the US-China trade war persists, and the external backdrop becomes more challenging due to cyclical slowdowns in key economies including China," Ice said.
She said there was a decline in imports across the board in December with capital goods and consumer goods both dropping by more than 10 percent.
The economist said imports would continue to outpace the growth of exports at 8.9 percent to 7.6 percent this year and 12.3 percent to 7.2 percent next year.
For his part, ING Bank Manila senior economist Nicholas Mapa said capital goods and raw materials would continue to banner the growth in imports as the Philippines attempts to move into a more investment-driven growth story.
However, Mapa said the Dutch financial giant sees a single-digit growth in imports this year due to lower global oil prices as well as the recent tightening cycle of the Bangko Sentral ng Pilipinas (BSP).
Mapa said exports are seen to remain lackluster given the country's dependence on the electronics sector to carry the entire export base, all the more given the external environment and the US-China trade war.
"Despite the continued weakening of the peso, export performance has not gained the so-called competitive edge that we had hoped it would derive from a weaker currency. Much more will be needed to get our export base off the ground," he said.
Overall, Mapa said the trade gap would remain relatively wide in 2019, which could continue to exert a weakening bias on the peso throughout the year.