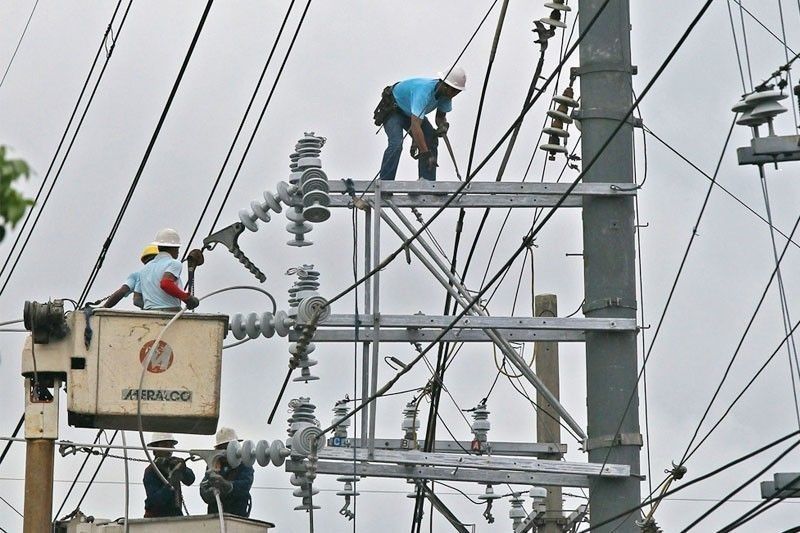 Meralco to ink more power supply agreements
MANILA, Philippines — Manila Electric Co. (Meralco) is getting additional supply for the summer months, particularly for the midterm elections, from Millennium Energy Inc. (MEI) and Aboitiz Power Corp.
In a disclosure to the Philippine Stock Exchange yesterday, Meralco said it filed with the Energy Regulatory Commission joint applications for the approval of interim power supply agreements (IPSAs) with MEI and AboitizPower's Therma Mobile Inc. (TMO).
The Department of Energy (DOE) exempted the IPSAs from the requirement for competitive selection process (CSP), which requires distribution utilities and electric cooperatives to undertake competitive bidding to secure PSAs with generation companies.
"With such filing of the joint applications and receipt of exemption, the mutual obligations to sell and purchase power under said agreements shall be implemented beginning April 26," Meralco said.
Under the IPSA with MEI, Meralco will purchase up to 70 megawatts (MW) of power from April 26 to June 25.
This will be sourced from MEI's 1x100-MW gas-turbine power plant, located at the Navotas Fishport Complex.
Meanwhile, the IPSA with TMO calls for the purchase of up to 200-MW contract capacity and associated energy, subject to restatement based on the results of capacity test, for one year from April 26 to April 25, 2020.
"This contract is a timely response of both AboitizPower and Meralco to the call of government for stable and reliable power going into the midterm elections and beyond," AboitizPower oil business unit president and COO Celso Caballero III said.
TMO, with four floating power barges moored in Navotas, has a combined gross capacity of 242 MW. The facility went into preservation mode last Feb. 5, as well as voluntarily disconnected from the grid and de-registered from the energy market.
It is expected to be registered again with the Independent Electricity Market Operator of the Philippines Inc. (IEMOP) on April 22. Delivery of power to Meralco will commence on April 26.
The oil-fired barges in Navotas are considered ideal for providing peaking supply and ancillary services with its operational flexibility and the ability to start up quickly to respond to the needs of the grid. TMO will provide Meralco with up to 200 MW of additional power.
So far this month, the Luzon grid was placed on yellow alert for six days and red alert for four days as several power plants went on unplanned outage.
On April 12, several parts of Luzon, particularly in Metro Manila, experienced two to three-hour rotational brownouts because of the supply deficiency in the grid.