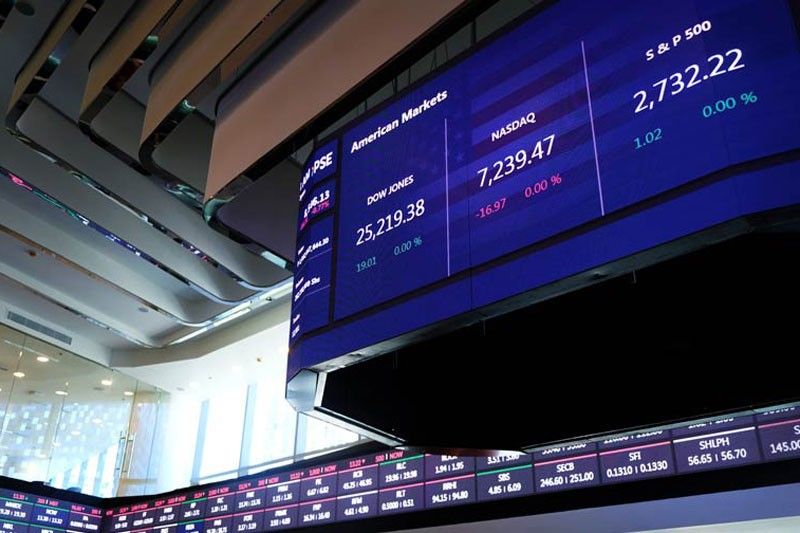 Market to move cautiously this week
MANILA, Philippines — Trading may turn cautious this week after the index soared to an intra-week high of 7,801 last week, analysts said.
Philippine Stock Exchange chairman Jose Pardo, however, said the market was off to a good start and there are indeed many things to look forward to this year.
"There are many good things to look forward to in the next 12 months," Pardoners said.
He said they are aiming for more products such such short selling and REITs.
"We are also optimistic that market conditions will be more favorable for capital raising," Pardo said.
Despite Wall Street's volatile performance, upbeat mood dominated the three-day trading week, especially after December's domestic inflation slowed to 5.1 percent from six percent in November.
Moving forward, caution is expected this week, having seen the Philippine Stock Exchange index reach an intra-week high of 7,801 during the initial trading week for the year, according to F. Yap Securities.
"The focus is back on consumer and investment spending for the first quarter of 2019, which will provide a clearer view how specific industries would fine-tune their spending plan for the rest of 2019," F. Yap said.
Last week, the PSEi zoomed 295 points to settle at 7,761, up four percent.
This was boosted by mining and oil, which rose eight percent & property, which was up seven percent.
Net foreign buying average stood at P404 million as optimism returned to the stock market.
"Given the challenges of tighter monetary framework for 2019 to achieve price stability, much of global economies' growth will depend on fiscal initiatives that will be undertaken. As such, investors should be cognizant that infra layout would entail bloating the fiscal gap at the start, but should reinforce future sources of revenues in the long haul. Immediate support is 7,600 to 7,700, resistance 7,850 to 7,880," F. Yap said.
Jonathan Ravelas, chief market strategist at BDO, said the week's close at 7,761.11 indicates that the market still has the momentum to try the 8,000 levels.
"Look for a close above the 7,800 level to signal that the assault toward the 8,000 levels have began. "However, failure to clear the 7,800 levels could trigger some profit taking back toward the 7,300 to 7,500 levels," Ravelas said.