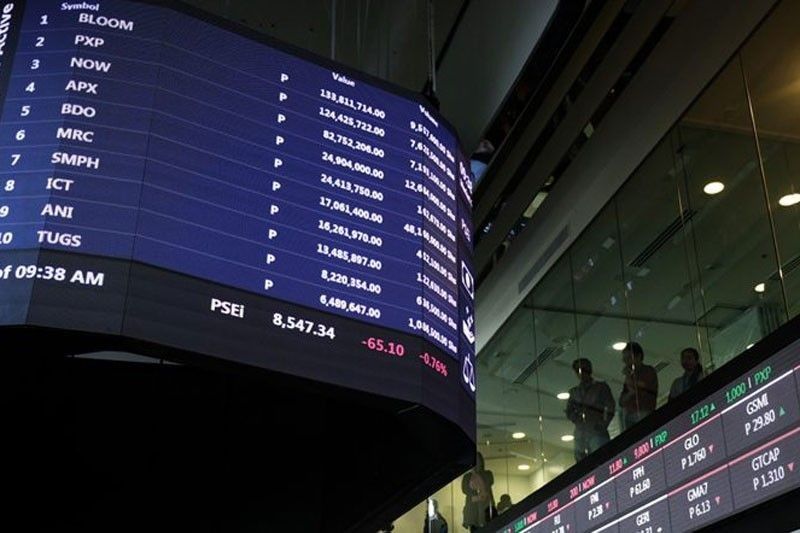 Global worries sink stocks below 7,000
MANILA, Philippines — Global jitters sent the stock market crashing yesterday, with the index sinking below the 6,800 level or at a 52-week low of 6,790.58 before crawling back to close at 6,884.38.
This was still down by 1.66 percent or 116.76 points.
It was red all over as well for the sectoral indices with the holding firms and property sectors recording the biggest declines at 2.26 percent and 2.11 percent.
"All sectors declined led by conglomerates," said Philstocks Financials in a market commentary.
Total value turnover reached P5.427 billion. Market breadth was negative, 167 to 39 while 34 issues were unchanged.
Yesterday, the index recorded its 31st straight day of net foreign outflow, forcing it to wipe out 12.09 percent since Aug. 29.
Year-to-date, the stock market was down 21.09 percent as the index broke the 6,950 support.
Traders said the market needs a convincing recovery to encourage investors to return for a longer time.
Harry Liu, president of Summit Securities said the sudden break yesterday had a lot to do with the correction in the US equities.
US stocks tumbled to their lowest since February on fresh concerns of a US-China trade war.
"The US (market) really needed a correction but the correction came in very abrupt," Liu said.
He said the Philippine stock market may continue to decline especially if the 6,800 support level does not hold.
"If 6,800 will not hold, the next major support is 6,500. It depends on how bad the US will react," Liu said.
Factors that triggered a sell off here and abroad include oil price increases in the world market which are dictated by global crude market forces.
"We have no control of oil prices," Liu said, adding that the surge in oil prices have affected inflation.
"And this has to be controlled," he said.
Inflation rose to 6.7 percent in September, a nine-month high, from 6.4 percent in August. It has also contributed to the weakness of the peso.
But he said, reining in inflation would take a while and a turnaround in the local bourse may come in only next year.
"Any sign of a turnaround, we can expect this next year, when inflation has been controlled," he said, adding that investors should be more cautious.