Business
Empowering the poor through digital platforms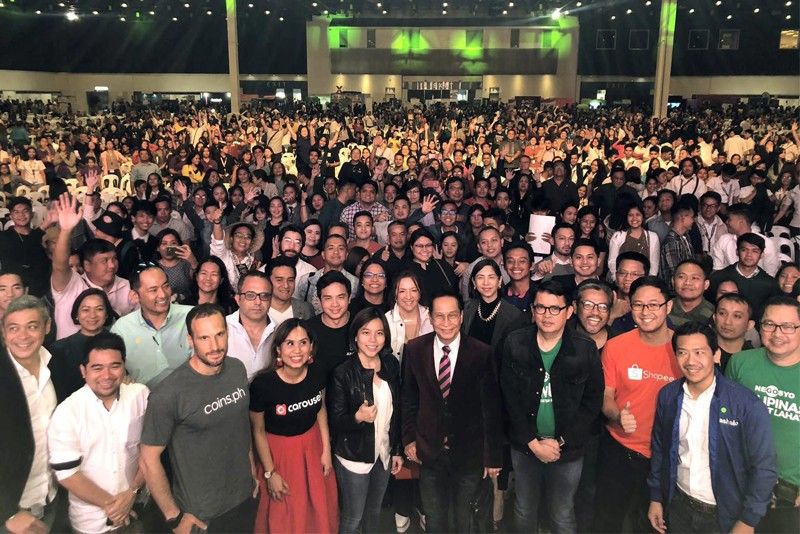 Go Negosyo and the Angat Lahat sa Digital Alliance, led by PA Joey Concepcion, mounted the biggest mobile app summit and expo in the country with a record-breaking number of more than 15,000 registrants last Sept. 23 at the World Trade Center. Presidential spokesperson Salvador Panelo, who also celebrated his birthday on the same day, encouraged the youth to take a chance in the growing digital economy.
Fourteen years ago, I had a vision.
The Filipino entrepreneur is second to none in terms of tenacity and resourcefulness. That I knew as fact as I come from a long line of entrepreneurs myself. Despite this, many Filipinos remain unemployed, or employed but still struggling to make both ends meet because of low pay. The vision was to help these individuals build their own capacity, especially in terms of entrepreneurship, to provide a platform for them so they can develop their potential and lift themselves out of poverty. That vision was Go Negosyo.
This vision has already taken us to many places and phases. Last Monday, it allowed us to open up another avenue for our skilled workers and micro, small, and medium enterprises (MSMEs) to get a chance at a better future. Together with our Angat Lahat sa Digital Alliance, the Go Negosyo team and my office as the presidential adviser for entrepreneurship brought together the biggest number of start-ups and digital platforms in a single event in the country. In the SIGN-UP Summit 2019, around 100 mobile platforms were able to introduce their programs and let a record-breaking number of 15,000 Filipinos understand that the use of such platforms is the way forward.
Digitalization is not only pro-all, but also pro-poor. Creating prosperity for everyone is the utmost objective of our foundation, supported by many entrepreneurs, business chambers, and the government and private sectors. Our digital platform partners Grab Ph, Angkas, Shopee Ph, Lalamove, Lazada, PayMaya, GCash, Coins.Ph, Cashalo, Magpie, QuadX, Zennya, Carousell, and Mober have all set aside competition to join in the cause of helping out the many skilled Filipinos out there whose potentials remain untapped.
In the summit, the small entrepreneurs were able to tell their stories and make their voices heard before the huge audience at the World Trade Center. Even participants at our five other regional SIGN-UP hubs in Cebu, Davao, General Santos, Iloilo, and Cagayan de Oro were able to hear them.
Individuals such as Ryan Balingkit, a Lalamove driver who is now earning 10 times more than he used to before, was able to inspire others with his hardwork and courage to take risks. Nene Tamayo, who appeared in a TV reality show, was also able to share her business success story. Sharing how at first, she was discouraged to start her own business because of the many processes involved in opening up one, she found help with the online platform GCash. It enabled her to pay for the necessary transactions in registering her business, and when she finally did establish it, the platform allowed her to engage with her customers, all in the comfort of her own home. Her bangus-selling business is now a thriving business in her home city Dagupan.
Angkas, who situated a booth at the parking area, was also able to serve thousands of bikers who lined up as early as four in the morning at the area.
This is our goal – to empower Filipinos, consumers and entrepreneurs alike and especially those living below the poverty line – through digital platforms that capacitate them to become self-earning and financially independent entrepreneurs. That is called inclusive growth and that is what lies in the heart of the Pilipinas Angat Lahat sa Digital Alliance.
Efforts to gather key people in the public and private sectors to take on the important agenda of digitalization are imperative, especially as we are now on the verge of the Fourth Industrial Revolution. Our historic summit was lauded by our guests, including presidential spokesperson Salvador Panelo, who was also celebrating his birthday on the same day of the summit. He encouraged our youth to take a chance at our growing digital industry.
Because we are aware, our way forward is digitalization, and its development relies heavily on the creation of an enabling environment by our government leaders who set the policies of our nation. As Senator Juan Miguel Zubiri and Quezon City Mayor Joy Belmonte have reiterated, there must be a balance between encouragement of entrepreneurship in the digital economy and government regulation.
I also believe in what Labor Secretary Silvestre Bello III shared – that a key solution to unemployment is educating our service workers such as returning overseas Filipino workers (OFWs) on livelihood opportunities generated by digital platforms.
Two other Cabinet secretaries joined us in the summit, Secretary Boy Dela Peña of the Department of Science and Technology and my friend and Trade Secretary Ramon Lopez. They shared with the MSMEs present in the forum the integration efforts of the two key departments towards cultivating an innovation culture among our tech companies and entrepreneurs. This is very important because reorienting the Filipino mindset towards embracing the opportunities of digitalization is what will move us forward as a society.
This is the beginning of real change. The Filipino people can expect Go Negosyo and our expanding Digital Alliance, along with the rest of our partners, will not waver in our dedication to enhance the lives of the poor through digitalization. I have made a commitment and my mission is to help every Filipino out there to succeed in life.