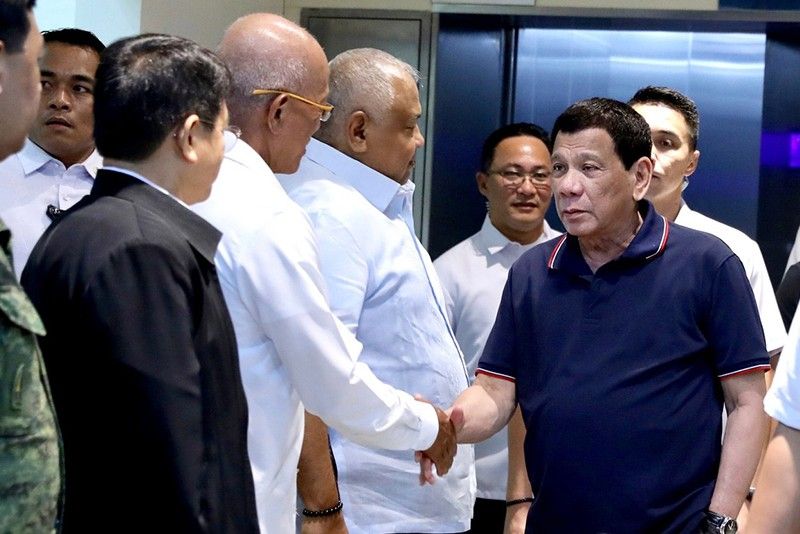 Duterte signs EO to fund salary hike for gov't workers despite budget deadlock
MANILA, Philippines — The new round of salary hike for government workers will push through despite Congress' failure to pass the 2019 national budget on time after President Rodrigo Duterte signed an order identifying an "appropriate" funding source for the fourth tranche of the compensation adjustment.
Lawmakers went on their Christmas vacation last December without passing the proposed P3.757-trillion national budget for this year. This means the national government will have to run using a re-enacted budget beginning January.
The Department of Budget and Management previously said it cannot implement the scheduled salary hike in 2019 "without legal basis," citing Section 15 of Executive Order 201 which says that the wage increase is "subject to appropriations by Congress."
On March 15, Duterte signed Executive Order 76, which amended EO 201.
Under the new EO, funding requirements for the salary hike in 2019 "shall be charged against any available appropriations under the FY (fiscal year) 2018 [General Appropriations Act], as reenacted," pending the approval of this year's spending plan.
"Due to the re-enactment of the FY 2018 GAA, there is a need to identify an appropriate funding source to cover the requirements for the implementation of the fourth tranche compensation adjustment for civilian government personnel scheduled in 2019 under EO No. 201," Duterte said.
House appropriations commitee chair Rolando Andaya Jr. (Camarines Sur) on Wednesday said the House of Representatives has ordered the retrieval of its copy of the 2019 spending plan that was sent to senators in a last-minute bid to break a budget deadlock now on its third month.
Senate President Vicente Sotto III last week said he would not sign the enroled copy of the General Appropriations Bill unless the House of Representatives withdraws all the changes it made amounting to over P95 billion into an already ratified budget.
The squabble has delayed the signing of the budget bill by President Rodrigo Duterte, who said he would not approve an "illegal document." — Ian Nicolas Cigaral