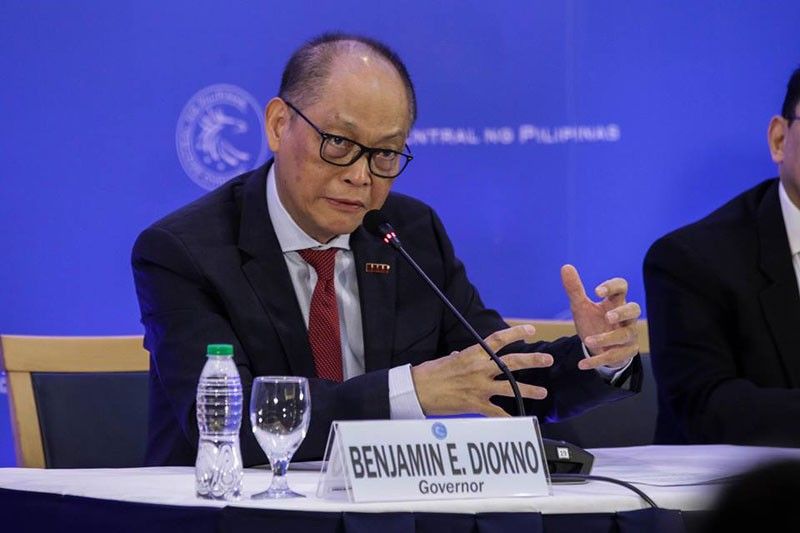 BSP seen cutting bank reserve ratio thrice this year
MANILA, Philippines — The Bangko Sentral ng Pilipinas can be expected to cut the reserve requirement ratio (RRR) for banks three times this year even as it remains cautious about the timing, London-based think tank Capital Economics said.
"The Monetary Board statement contained no reference to plans to resume cuts to the reserve requirement ratio. Deputy Governor Diwa Guinigundo did reaffirm the plan to do so, but cautioned that 'we need to get the timing right.' We expect the BSP to cut the RRR three times this year," the firm said in an updated response to Thursday's policy setting meeting.
The steep reserve requirement ratio of 18 percent was kept unchanged in the meeting but Guinigundo said reducing the RRR is always being considered and must be done consistent with monetary policy.
Slashing the reserve requirement will inject more liquidity in the system and may make borrowing cheaper, he said.
BSP Governor Benjamin Diokno has said that with the steady deceleration of inflation, there is room to unwind the policy tightening episode – that saw policy rates rising 175 basis points last year – as well as cutting the RRR for banks.
Guinigundo, however, maintained a more cautious tone, saying this would require a careful assessment as a one percentage point reduction in RRR can release between P85 billion and P90 billion into the financial system.
In the update, Capital Economics also maintained its view that policy rates will be cut twice this year as inflation continues to fall back. This goes against the prevailing median market forecast of a single rate cut this year.
"We are maintaining our view that interest rates will be cut twice this year, with the first cut likely to be in May," the firm said.
Although the BSP did lower its inflation forecast to three percent this year from previous expectations of 3.1 percent, it noted risks to the outlook such as a prolonged El Niño and faster increases in global oil and food prices.
"We think the central bank is overplaying the risks from inflation," said Capital Economics. "Inflation should continue to fall further over the next couple of months, as food price inflation continues to drop back."
As widely expected, the BSP kept interest rates steady for the meantime as it recognized risks to economic growth.
The Monetary Board kept the overnight reverse repurchase rate at 4.75 percent, the overnight deposit rate at 4.25 percent and overnight lending rate at 5.25 percent.